By Lilly Lewin
We are on the way to Bethlehem.
We are all on the way, in the midst of Advent and all the holiday preparations that go with the season.
How are things going?
If you are like me, you still have a long list of things to do and preparations to make.
We are on the way to Bethlehem and the birth of Jesus.
Are we ready?
Are we getting close? I mean are we getting closer to Him or are we feeling farther away due to those long lists of things to do and stuff piling up emotionally and maybe even physically! (you should see my dining room table! Filled with paperwork and wrapping!)
The gospel reading for this week is Luke 3: 1-6 which reminds us of Isaiah 40.
ISAIAH 40 The Message

 "Comfort, oh comfort my people,"
says your God.
"Speak softly and tenderly to Jerusalem,
but also make it very clear
That she has served her sentence,
that her sin is taken care of—forgiven!
She's been punished enough and more than enough,
and now it's over and done with."
Thunder in the desert!
"Prepare for God's arrival!
Make the road straight and smooth,
a highway fit for our God.
Fill in the valleys,
level off the hills,
Smooth out the ruts,
clear out the rocks.
Then God's bright glory will shine
and everyone will see it.
Yes. Just as God has said."
LUKE 3 (NIV)
In the fifteenth year of the reign of Tiberius Caesar—when Pontius Pilate was governor of Judea, Herod tetrarch of Galilee, his brother Philip tetrarch of Iturea and Traconitis, and Lysanias tetrarch of Abilene— 2 during the high-priesthood of Annas and Caiaphas, the word of God came to John son of Zechariah in the wilderness. 3 He went into all the country around the Jordan, preaching a baptism of repentance for the forgiveness of sins. 4 As it is written in the book of the words of Isaiah the prophet:
"A voice of one calling in the wilderness,
'Prepare the way for the Lord,
make straight paths for him.
5 Every valley shall be filled in,
every mountain and hill made low.
The crooked roads shall become straight,
the rough ways smooth.
6 And all people will see God's salvation.'"
The Isaiah passage is one of my very favorite passages. It gives me great hope on the way to Bethlehem.
Speak comfort!
Speak tenderly to Jerusalem,
and proclaim to her that her hard service has been completed,
She has been punished enough
Her sins are forgiven
Can you picture God saying this to you today?
Can you imagine God speaking comfort and speaking softly and tenderly to you?
Telling you that you that your sins are forgiven?
Sit with this awhile. Receive the comfort of this.
Breathe it in.
What is a symbol of this comfort for you?
Is it a cozy blanket, a warm fire, a cup of tea or good coffee?
Look up this passage on Bible Gateway and read it in different translations.
What do you see or hear? What do you notice?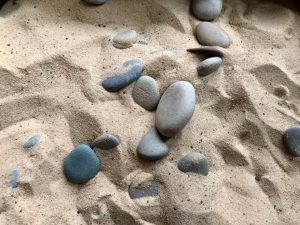 The second part of the passage can also help us get ready for our journey to Bethlehem.
And you might need to work with the second half of the passage in order to really rest in the first part, the comfort and forgiveness.
"Prepare for God's arrival!
Make the road straight and smooth,
a highway fit for our God.
Fill in the valleys,
level off the hills,
Smooth out the ruts,
clear out the rocks.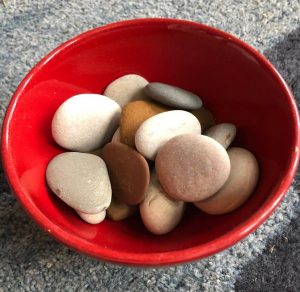 What are the ROCKS that are in your path right now?
What are the things that are making your path rocky and rough and preventing you from going smoothly to Bethlehem?
Notice the rocks in your yard, or on the street or path near your home. Collect a few rocks on your next walk around the neighborhood. Hold a rock or two in your hands and consider the things that are blocking your path and the pathway of your heart to receive the King this Advent.
What things are in your way?
Ask Jesus to show you these things.
Are there rocks of fear and anxiety in your way?
Are there rocks of resistance and bitterness because of broken dreams or feelings of not enough?
Are there broken rocks that need healing?
Are there rocks that others have thrown on your path that need to be cleared away and forgiven?
What about the rocks you've thrown on the paths of others? Or on your own path that are blocking you?
Rocks of busyness, worry, doubt, impatience, laundry, homework, etc…
Talk to Jesus about these things and then go back and read the beginning of Isaiah 40.
Allow Jesus to have these rocks.
Allow Jesus to clear the path for you.
And as you are driving the highways this week, notice when they are straight.
Notice the valleys and hills around you.
Thank Jesus that you are on the path to Bethlehem.
Continue to ask him to take away the rocks on your path.
And let us all receive the Comfort and Forgiveness and Love of Jesus this December.
Listen to this passage in Messiah by Handel
more ideas for advent and christmas at freerangeworship.com