by Lilly Lewin
Last Friday, I was in the midst of the Story Gathering in Nashville. It's a conference of creativity where story tellers from all walks of life gather to be encouraged and inspired to keep on creating and bringing beauty and our gifts into the world. The theme for this year's gathering was Wonder… the curators took us on a journey down the rabbit hole into Wonderland, following Alice and the White Rabbit into a place where anything can happen and often does!
Along with the great visuals and speakers, the amazing team at Uncommon Creative Studios curated spaces throughout the venue to help us engage the story and theme in more tangible ways.
One of these ways was the Mad Hatter's Tea Party.
They set up multiple tables for two in a beautiful lobby and invited us to have tea with a stranger.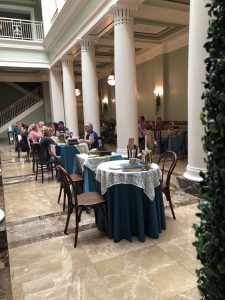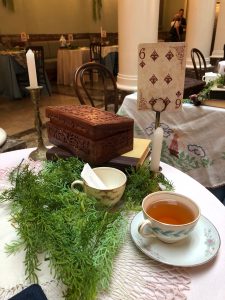 As an atmosphere architect myself, I loved the beauty of the table décor and the use of real tea cups and the centerpieces on the table. We had a choice of hot or cold tea in our tea cups and since it was in the upper 90's I chose a decaf herbal tea rather than my usual choice of hot black tea and milk. I loved that we were given a playing card as our table number and escorted to our seats. The conference had us sign up for this experience in advance, and do a simple survey, so the person we had tea with was not entirely random. But in all honesty, I had forgotten that part and was excited to meet someone new and have a conversation. The Mad Hatter, in costume of course, invited us to put our cell phones away in a beautiful wooden box found on each of the tables. Being an extrovert, I had no trouble starting the conversation with my new friend Philippe from San Diego who is the creative director of a nonprofit called Plant with Purpose. But if we needed help, there were some great questions on cards in a teacup on the table.
This experience got me thinking about my need to do this more! To have tea with friends and maybe even with people who aren't friends yet! This experience inspired me to consider hosting tea parties at home or going to my local café at Thistle Farms and having tea there. The motto at the café at Thistle Farms is "Every cup has a Story" and they collected tea cups from all over the world to help decorate the café and bring the stories to life.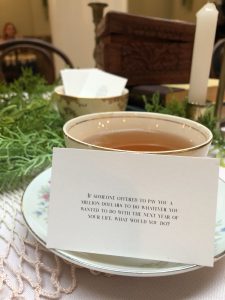 What if we all started a Tea Practice in order to hear more stories?
What if we started having tea with others as an act of love and as an act of resistance to the US vs THEM culture that is so bitter in our world today?
Who could you invite over for a cup of tea? Who can you invite out for tea?
What would you talk about?
What questions would you ask?
Are you willing to take the time to listen?
Since Every cup has a story…what's your story?
Brew a cup of tea and consider your story and where you are on your journey with Jesus today.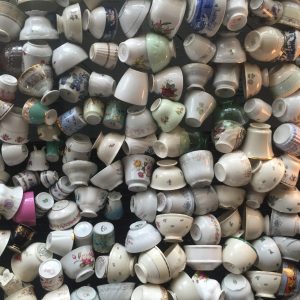 How can you tell your story to someone this week? How can you listen to a story that is different from your own? Are you willing to be willing?
What things stop you from connecting with people you don't know or don't think like you?
Whose story do you need to listen to? Here in America, the culture of conflict and US vs Them needs an alternative strategy and that might just start with something as simple as a cup of tea!
How can you plan to have tea with someone or a few people?
Could you plan a tea party for friends?
You could plan a tea party for people you don't know well but would like to know better!
You could throw a tea party for your neighbors as an opportunity to hear their stories and get to know them better!
Start with yourself….
Healing with Tea:
Make yourself a cup of tea and reflect on your story.
Reflect on a relationship that is broken.
Make yourself a cup of tea and take the time to consider a person with whom you need to be reconciled.
Pray for this person to be surrounded by God's love and grace today.
Maybe it's a group of people that you need to learn to love.
Ask Jesus to help you love them. Ask Jesus to help you love yourself.

As you drink your tea, ask Jesus to fill you with
Hope
Peace
Love
And Forgiveness
Ask Jesus to help you practice Reconciliation.
Breathe in the aroma of the tea and allow Jesus to breathe love into you.
So take time for a cup of Tea today and consider having Tea with someone else. And if you are ever in Nashville, I'd love to take you to tea, (or coffee) and hear your story!