By Lilly Lewin
Happy June! I'm not sure how it happened, but the calendar has changed again! Summer has begun here in Nashville and people are already heading off on trips and holidays and getting ready for the pace of summer rather than that of the school year. I know that in other places, you are not yet in the summer mode, but I'm finding that we need to plan ahead, rather than wait, in order to have time to water our souls. Too often when the seasons change, we get busier rather than less busy. My calendar for this month is already filled with work appointments, deadlines and a big family wedding. I'm realizing that I need to prioritize my time with God this month and actually plan for sabbath and silence in order to feel the refreshment of the Spirit and not just be a dried out dish rag by summer's end.
I want to share with you the practice of the Sabbath Box.
I learned about the practice from Wayne Muller's Book
Sabbath: Finding Rest, Renewal, and Delight in Our Busy Lives.
The Sabbath Box holds all the things that will distract you from actually spending time with Jesus. The Sabbath Box allows you to let God be God and hold the things that you try to control or the things that burden you, bog you down, and keep you busy.
You can create a Sabbath Box or purchase and actual box or a basket with a lid to use in this practice.
You can do this on your own or as a family or with your housemates.
The Sabbath Box enables you to create space so you can rest and hear from God. It's a tangible way, a visible reminder, that will help you "Let Go and Let God," and help you rest in Jesus.
First things first! We need to get rid of distractions! Put away your list and let God hold it in the Sabbath Box.
Getting Rid of Distractions…putting away your list!. We all have one. A to do list, a mental list, actual lists of stuff churning around in our minds that prevent us from resting and being refreshed. So….
Make a List…
Write it all down and then place it in an envelope…
and
when you are ready, place the envelope in the Sabbath Box…
You might consider these things as you make your list….
What are things that scare you right now…about your life, about the world, about your job, family, etc.
What are you worrying about?
What is bugging you right now?
Who's bugging you?
What relationships are causing you stress or pain?
What are you frustrated about today?
What are the things that have frustrated you this week?
What things are distracting you?
What things back at work, at the office, or in your family are causing you anxiety, or stress?
What is in your head that is distracting?
What stuff is filling your head?
WRITE IT ALL DOWN and Give it God…allow God to hold this list, these things for you.
This practice can be done any time and any day. It could be done before you start your day if you are feeling overwhelmed and anxious. It might be something you do at night before bed, allowing Jesus to hold The List for you while you sleep.
As a true Sabbath practice, you'd make your list on Friday night before dinner and place it in the box and let Jesus have it for 24 hours.
Your job is to let Jesus carry all the things on your list.
And if you have more things come up in that 24 hour period, make another list and put it in the box.
To add to the Sabbath Box practice, you might put your lap top and/or your cell phone in the box. Start with a couple of hours. Allow God to have your undivided attention, no phone, no computer. Just you! Then work on this practice so you can actually put your phone, laptop, tv remote, etc away for longer. Could you do it for an entire 24 hours or even the entire weekend? I'm not there yet! I need to practice this practice! I'm starting with putting my phone away before bed and using a clock by my bed rather than my phone to know the time.
Here's one of my favorite prayers to use as you entire a time of Sabbath rest and as you start your Sabbath Box practice.
Lord,
There is nothing more important that what we are attending to.
There is nothing more urgent that we must hurry away to.
We Wait on you Lord God.
Your time is the right time.
We wait for You to make Your word clear to us.
We know that in time
and in the spirit of deep listening
and in quiet stillness
Your way will be clear. AMEN
( based on a prayer by Thomas Merton)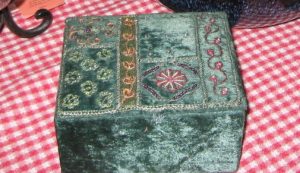 I'd love to hear how you use this practice and see your Sabbath Boxes too!
And here's to a peaceful, restful, less busy June!