by Lilly Lewin
Give us this day our daily bread!
I was at a retreat recently where Father Michael Sparough led us in the Lord's Prayer as a body prayer using hand gestures/motions. The action for "give us this day our daily bread" was holding our hands out in front of us cupped like we were holding a bowl of rice.
As we prayed the Lord's Prayer several times in this way, I was reminded of the Children of Israel in the Wilderness.  They were commanded to gather enough manna for one day only . One day at a time,  except for the Sabbath, then they could collect enough for two days only. Any extra would rot and have maggots.  all we get too.
This was a powerful image for me in a world where too often we don't feel like we have enough and we don't believe we are enough. And sadly we don't believe that God is enough.
Holding my hands out…
cupping them in the shape of a bowl is  just the image I need!
I need to remember that God is Enough!
I need the reminder that Jesus is Enough!
The Holy Spirit is Enough!
We get enough for today
Enough Peace
Enough Joy
Enough Love
For Today!
For today is all we have! And tomorrow will take care of itself.
Today, I am sitting in a hospital room with my parents. My Dad is waiting & preparing for the possibility of open heart surgery next Tuesday.
A check up found a blood-clot in his newly replaced heart valve. So we are waiting to see if the blood thinners work. I am so thankful to be in a fantastic hospital with fantastic doctors!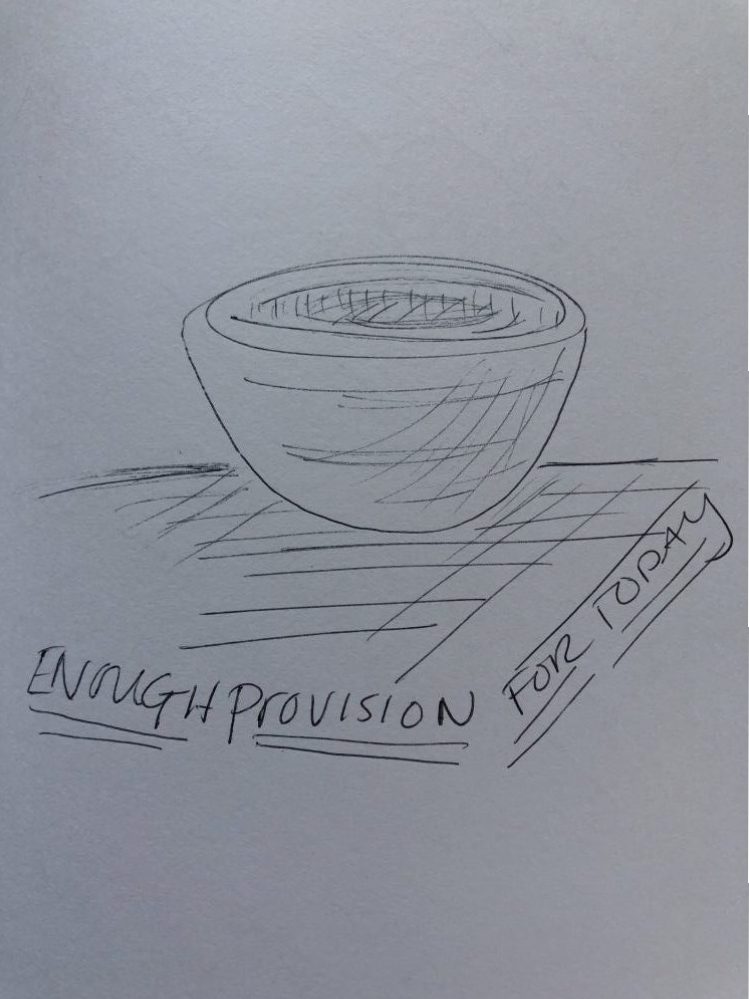 Today we have more than enough!
God is enough!
God's provision is enough.
God's economy is abundance
And  given daily, is enough.
What do you need today?
Hold out your hands cupping them in the form of a bowl.
Tell Jesus what you need today
Are you willing to believe in His provision for today?
Are you willing to let Jesus fill your bowl today with Enough?
Sometimes we need this reminder minute by minute, by hour by hour.
Hold out your cupped hands and allow Jesus to fill them with them with what you need. Hope, Love, Peace, Compassion, Healing, Joy, Energy, Forgiveness, Mercy, Resolve, ……. whatever you need enough of today.
I even found a bowl to use as a symbol of my "daily bread" provision. Along with my cupped hand prayer, I am using it as a tangible reminder that God is Enough.