We were in the mood for a celebration. After 3 years of travelling, listening to him teach, trying things ourselves and seeing amazing miracles, at last we were approaching Jerusalem at Passover, crowded with pilgrims all set to welcome the one who we knew so well, the one we knew to be the Messiah. We were exhausted and ecstatic in equal measure: sensing that at last Jesus' hour had come, that he would be proclaimed Messiah at last, and the horrendous regime of the Romans would be finally ended. So yes, we were in the mood for celebration.
It had seemed shrouded in secrecy at first. That journey for the donkey with its enigmatic secret password. Not surprising, perhaps, with the city turbulent, the people agitated by a complex mix of hope and desperation. It was not lost of them either, the significance of the donkey, fulfilling the prophecy from Zechariah that our beloved Jerusalem would see their king coming on a donkey. Pilate's war horse was no match for this incredible scene. You could almost hear the unspoken corporate "AT LAST!"
So shout we did, a whole crowd of us, with others gathering. With every shred of our God-given breath we yelled and hollered: "Blessed is the king who comes in the name of the Lord! Peace in heaven and glory in the highest!" We wanted everyone to understand what this day meant.
At first Jesus seemed to catch our exhilaration. The Pharisees, seeking to crush our joy, sought a rebuke for us from him, but he would have none of it. "Don't you get it? All of creation is celebrating" he retorted, surprising even us by the scope of what he was implying.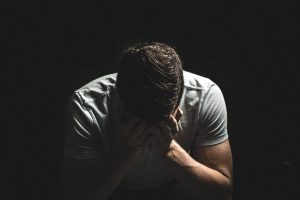 And then he stopped. Still a little raised from the city, he looked slowly across the vista. We thought he was looking at the glorious temple, appreciating its majesty, andso I looked too. But then I glanced at him, and saw a movement I did not recognise at first, and then recoiled in horror when I did. He was weeping. Not delicate tears, but racking sobs, so strong it shook his body and he was barely able to breathe. He was looking, and howling as if from the depths of his soul, as though he could see something we could not, and it was breaking his heart. "If you, even you, had only known on this day what would bring you peace—but now it is hidden from your eyes", he muttered from a place of pain we could not reach him.
We were shocked to our very core. What kind of entrance was this for a king? I wanted to shake him from this inexplicable grief, remind him what we were here for, but somehow I couldn't. It was the look in his eyes, as though he could see something, away in the distance of time or geography, that I was not privy to. So I waited, and in time he stood up, and the joyous procession restarted. We were back on track.
We had no idea what the next week would hold.