by Christine Sine
The last couple of weeks have been very special for me. I spent several days in Palm Springs with Ruth Austin and Cheryl Mackey whom I roomed with when I first joined Mercy Ships in 1981. I then flew to San Francisco to spend the day with Kathryn Mar, who with her husband Doug, formed part of the early medical team on the original Mercy Ship, the M/V Anastasis. Together we dreamed and plotted and planned, slowly creating a tiny hospital that was the embryo from which Mercy Ships Medical Ministry was birthed. We also shared many incredible experiences, like the time 8,000 fish landed on the shore in front of where we were staying in Greece, which is depicted in the photo above.
On Friday maxilla-facial surgeon Dr Gary Parker, whom I recruited for our initial cleft lip and palate outreach in 1987 came to lunch together with his wife Susan. They have spent their lives on the ships, raised two kids and dedicated themselves to providing health care for some of the world's most vulnerable. I listened in awe as Gary told stories of what has come out of the ministry I had the privilege of helping give birth to. Susan reminded me too of this prayer which I wrote several years ago especially for Mercy Ships which is still frequently shared with the crew, volunteers and donors. As I read through it again today I realized that it is important not just for those on the ships but for so many of us who work to bring justice and relieve suffering in our hurting world.
An Africa Mercy Community Prayer
Merciful Father,
You have called us from many tribes and nations,
Drawn us from many cultures and creeds,
As rich and poor, young and old,
You have embraced us together with all the hurting people of this world,
You have welcomed us as part of your eternal family.
Compassionate Christ,
You have shown us so much of the world's injustice and pain,
And in its midst you are always there. 
Let us see you in those with deformed faces and broken lives.
Let us hear you in the grieving and the oppressed,
Let us know you in the hungry and the vulnerable,
Transforming Spirit,
You whose indwelling presence brings renewal and restoration,
Flow through our hands and pour out healing,
Flow from our hearts, extend hope to the hopeless,
Flow through our lives with saving grace,
Flow through all we do and make others whole.
Eternal God, Creator, Redeemer, Comforter,
One in essence, Three in person,
Touch and transfigure us,
Let your love grow strong and deep within us.
Let your compassion bloom and overflow through us,
Let your righteousness bear fruit of mercy love and justice,
Until your world is changed,
And all creation is restored and made new.
After Gary and Susan left, I explored their daughter Carys's vlog and wanted to share this glimpse with you.
All these friendships provided wonderful opportunities to tell stories, reminisce and remind ourselves of how God met us in the most unlikely situations. So many foolish things we got to participate in, so many miraculous results. It was renewing, faith building and rejuvenating to recount them.
Stories Matter
We all love to know that our stories matter and delight in recounting them to friends. What I didn't realize until recently is what incredible benefits for our well being this type of retelling has.
In Brain Rules for Aging Well:10 Principles for Staying Vital, Happy and Sharp, molecular biologist John Medina documents the surprising research that shows how important reminiscing and nostalgia are for our bodies. Nostalgia promotes something called self-continuity linking who we were in the past with who we are now. When we reminisce, social connectedness increases, our sense of fulfillment in what we have accomplished increases, and positive memories rise to the surface. When we immerse ourselves in memories of our younger selves, we become healthy, our aches and pains are reduced, our weight and posture improve and our dexterity increases. Even our eyesight gets better.⁠1 It makes me wonder what it does for our spiritual health too.
Telling our stories is powerful, even when there is pain and trauma we are uncertain about revisiting and it is far more than the nostalgia effect. Reminiscing often unveil the invisible hand of a loving God who shaped and guided us to become the people we are. When we neglect these stories, they hold us prisoner to fear and pain. Retelling them is an invitation to the exhilarating adventure of an awakened and full life.
Retell Your Story
Perhaps you too would like to reminisce and reflect on the experiences in your life that have shaped you.
Sit in your favourite chair and relax. Take some deep breaths in and out. Close your eyes and visualize the God who took delight in lovingly crafting you in your mother's womb, nurtured you as you stumbled through the first hesitant steps of childhood, and grappled with the challenges of life. Picture God reaching down and rescuing you from your mistakes and brokenness because of that delight. Remind yourself of how special and unique your journey is and how proud God is of you.
Write Some Stories
Pull out your journal. Recount the story of your birth and the first year of your life. Where are you aware of God in this beginning point in your life? What do you think God enjoyed about your birth? Continue to reflect on those early days. What is your earliest memory of the love of God? What about the rest of your journey?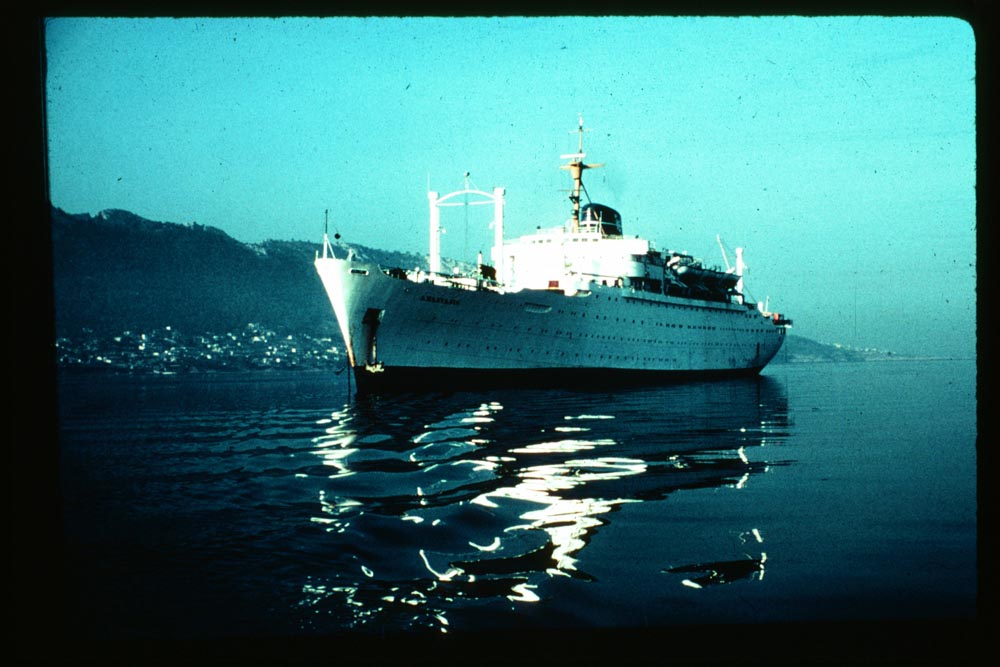 This photo above is of the Anastasis when I first joined it in Greece, not only a very important part of my life journey but also one that gives me much joy. Tell a story about the joy spots in your life journey. Compose another that highlights the struggling points in your life.
Read prayerfully through these stories: What made you feel close to God and when did you feel distanced from God? What were the practices that sustained you and brought joy to your life?
Draw a Picture 
Find a big piece of paper and some colored pencils or pens. Draw a picture of your life journey as recounted in your stories. I suggest you draw a rough sketch in pencil first and then use colored pencils or pens to highlight the joy spots. Then color the struggling points. Allow your memories and the stirrings of your heart to choose the colors for you.
Enter the Joy of God
Prayerfully reflect on your picture. Dialogue with the image. Do you sense God's joy in your journey and the person you have become? What parts of your story make you most aware of God's enjoyment of you?
What practices enhance your awareness of God's enjoyment ? How could you nurture and strengthen these? Respond to your impressions in writing, poetry, painting, music or whatever form of creative expression you enjoy.
If you are interested in purchasing a copy of Tales of A Seasick Doctor which recounts my story of life on the M/V Anastasis please email me at seasickdoctor@gmail.com