by Christine Sine
Today's prayer is adapted from one I wrote a couple of years ago, but I find myself returning to it again this year as I prepare my heart for the coming season.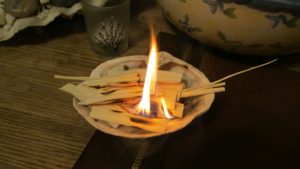 On Saturday, at our pre-Lent retreat, we started by burning the crosses from last year's Palm Sunday; the traditional way that Ash Wednesday ashes are made. However, I have also written another centering prayer that I find helps me focus as I begin my devotional time each morning. I am easily distracted, especially early in the morning and prayers like this really help me to shut out those distractions. This prayer is meant to be said slowly with a couple of deep breaths being taken between each line.
I sit in the presence of eternal love.
I breathe in the rhythm of eternal breath.
I delight in the joy of eternal presence.
My soul is at rest.
My spirit has found peace.
God is in me.
God is around me.
Behind, before, on left and on right.
God is with me,
Wherever I go.