by Lilly Lewin
I lived in Seattle back in the mid 80's and again in the early 1990's. Back then if I talked about Lent people thought it was the stuff in your dryer or in your belly button! Then I moved from the Northwest to Cincinnati and there is a Catholic
Church in every neighborhood so the season of Lent is celebrated with Fish Fries on Friday nights and it's talked about on the local news. Even the fast food restaurants like Burger King get excited and advertise their fish sandwich specials! Due to the fact that fish is traditionally eaten on Fridays while fasting of meat happens the rest of the week! It just shows how differently we can view the season of Lent.
I said last week in my Freerange post that my view of the Lenten Season is more about falling in love with Jesus for the 40 days of Lent and less about the sack cloth and ashes traditional Lent. My boss in my Cincinnati days, Father Foote, encouraged us to add things to our lives rather than giving up something for Lent. Not adding things in order to do more work, but rather adding things that we've been neglecting, adding things that would bring us closer to Jesus during the time between Ash Wednesday and Easter. Things like adding prayer, adding service to others, adding more presence and listening, adding more peace and less stress and worry. Peace instead of stress! That sounds like something most of us would love to add!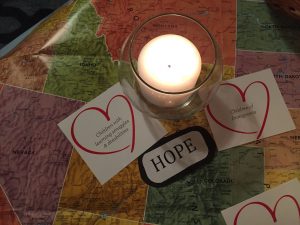 add peace subtract stress
add joy subtract whining
add hope subtract fear
add love subtract hate
add kindness subtract contempt
add compassion subtract indifference
add silence subtract busyness
add service subtract tv or netflix
add prayer subtract instagram or Facebook
And speaking of adding PRAYER for Lent this year, my friend Kara Root and I created a new Prayer tool kit launching this weekend called "40 Days Toward Love" which uses Prayer Hearts to pray with each day. You can use this kit for your own devotional time during Lent. Use it with your small group or youth group.  AND you can use it with your entire church community. The kit also includes ways to use the Prayer Hearts beyond Lent and ACTION CARDS to help you live out your prayers. You can find it in the Store on freerangeworship.com. We'd planned to have it posted live today but sadly had a technical problem right before it was to go live. Sorry about that.
Guess I am going to subtract perfectionism and performance, and add more grace for myself as I head toward Lent this year. Grace and Peace!
WE HAVE LIFT OFF! ""40 Days Toward Love" is on line and ready for you to download! There is an edition for churches and an edition for personal/smallgroup/family use!  The Church Edition has a bonus prayer station and allows you to make copies for your entire congregation! If you need more information, just ask! lillylewin@gmail.com