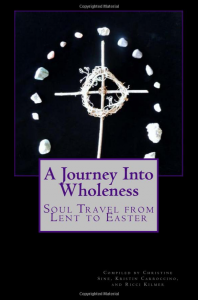 Lent & Easter are coming up and we are looking for resources that you may recommend for others and if you have written any publications that you would like to be featured on Godspace. John Birch has published a great book and bible study for contemplation on Lent and Christine wrote this daily reflection on Lent called, A Journey Into Wholeness that you may want to check out too. We also have a couple of FREE resources available plus other There are wonderful resources in our Church Calendar reference page. 
Lent starts on February 14th this year and our theme that month will be For Love of the World God Did Something Foolish. Wasn't it foolish that God sent a beloved son as an infant? Foolish the Eternal One's chosen people were an enslaved group? Foolish Christ had to die for us? How will you show our love towards God and neighbour, how will you appear foolish during this season? How has God seemed foolish in your life as you stepped out in faith? In February we will have some fun, tell stories of foolish things we  have done for love of God or of fun things that seemed foolish at the time but that bore fruit.
If you would like to be part of the Godspace community and contribute posts for the season, we would also love to have you be part of the team! Read our guidelines at the bottom of the community page and see if this may be a fit for you. If so contact us at godspacelight@gmail.com and Hilary will direct you to your next steps and sign you up for our bi-weekly writers e-mail.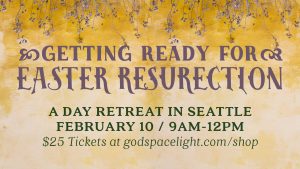 Don't forget about our upcoming retreat in Seattle where Christine Sine facilitates "Getting Ready for Easter Resurrection". This retreat will be held on February 10 from 9am-12pm in Seattle. You can purchase your $25 ticket in our shop.
There is a lot going on at Godspace and we hope to keep you filled in as much as possible, so don't forget to subscribe to our daily posts where you can get daily content sent to your e-mail or like our facebook page and follow a long on the journey.