by James Amadon
The news hangs from my shoulders these days like a heavy backpack, each story another stone to carry. I am tired of paying attention but afraid to stop, and it is taking a toll. My wife, Emily, says she can tell I am carrying the weight of the world when my shoulders start to slump forward. It is hard to stand up straight when each day brings new revelations of the terrible things that happen when selfishness and fear is wedded to power. Even now, as I write this in my local coffee shop, a young, white man with a shaved head is loudly pontificating to his companion about genetics and Martin Luther King Jr. I cannot tell for sure if he is part of the increasingly vocal ethno-nationalist movement in our nation, but it is a sad sign that this is my first guess.
One of the significant victims of our current cultural moment is joy, the deep sense that, come what may, the heart of the world contains an unshakeable goodness. This is what Jews and Christians hear in the opening poetry of Genesis, when God declares again and again and again, "It is good" (Gen. 1). Joy is rooted in memory and sustained by hope; neither comes as naturally to me as I would like. I take it as a great grace that, despite my inclination to forget the past and focus on all that is currently wrong with the world, hope wedges into my days like seeds in a cracked sidewalk, unexpectedly shooting up and blessing me with life-giving joy. This was true the other day as I watched the literal sidewalk in my neighborhood shimmer in the post-rain sunshine underneath a vibrant sky awash in greys and blues. It was a moment that transcended the moment, and it filled me with enough joy to lift my shoulders, shed my burdens, and open my eyes to something deeper.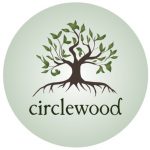 Joy also came unexpectedly a few months ago when I was given the opportunity to become the Executive Director of Mustard Seed Associates, the non-profit from which Godspace was birthed. I am filled with hope as I help shape Circlewood, the name we have given to the new ministry focus of MSA. We will be working with Christ-followers, the Church as a whole, and any other friends who want to join in, to put care for creation at the center of who we are and what we do. To me, this is an absolute necessity if we are going to be faithful to Scripture and more aligned with God's heart for the whole world. It is also, I believe, a gateway to joy, being rooted in the hope that all of creation is woven into God's redemptive love and grace.
It is this hope that keeps me from allowing the news of the day to overshadow the good news of Jesus. This good news burst into the world two millennia ago, dazzling lowly shepherds in the Palestinian countryside with a message that reaches through time to speak the truth we need to hear this Advent: "Do not be afraid. I bring you good news that will cause great joy for all the people" (Luke 2:10).
Great joy such as this often only comes after great sorrow, and those who follow Jesus know that the child in the manger becomes the outlaw on the cross, shoulders slumped in death from carrying the weight of the world. But Jesus, "who for the sake of the joy that was set before him endured the Cross" (Heb. 12:2), was buried like a seed in the cracked earth and burst forth as a sign of God's new creation.
It is tempting this Advent to see only leafless trees, falling sunlight, and a darkening cultural horizon. But this is God's pattern: death to life, bad news to good, sorrow to joy. Lift up your shoulders, shed your burdens, and open your eyes; joy springs up in unlikely places.
---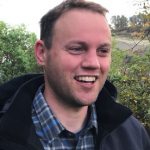 James Amadon is the new executive director of Mustard Seed Associates. He comes after serving for 10 years as the Senior Pastor of Highland Covenant Church in Bellevue, WA. In addition to his leadership skills and experience, he brings a passion for helping people see the personal, social, and ecological dimensions of faith and developing ways to integrate these dimensions into an integrated whole, an area he is also working on in his doctoral studies at Duke Divinity School. Feel free to reach out to James at jamadon316@gmail.com.