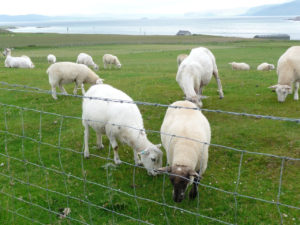 By Lilly Lewin
Psalm 23 (The Message)
-3 God, my shepherd!
I don't need a thing.
You have bedded me down in lush meadows,
you find me quiet pools to drink from.
True to your word,
you let me catch my breath
and send me in the right direction.
4 Even when the way goes through
Death Valley,
I'm not afraid
when you walk at my side.
Your trusty shepherd's crook
makes me feel secure.
5 You serve me a six-course dinner
right in front of my enemies.
You revive my drooping head;
my cup brims with blessing.
6 Your beauty and love chase after me
every day of my life.
I'm back home in the house of God
for the rest of my life.
The twenty third psalm was the psalm of the day this past Sunday….During our journaling time, I wrote the following:
The Lord is my shepherd, I lack nothing.(NIV) GOD, my shepherd!
I don't need a thing. (The Message)
Jesus help me know that you are ENOUGH! And with you I have everything that I need! I don't really lack anything. ENOUGH…what does that mean? What does that look like?
What if I really believed that with Jesus, I have enough?
What if I knew, REALLY knew that with Jesus I lack nothing? What does that mean? What would it look like if I lived out The Lord is my shepherd, I LACK NOTHING? How would I be different?

What if I saw everything as enough?
Enough money, time, attention, focus, creativity, work, and love?
How does this change my thinking? If I really believe that I have enough, or that today I am enough, and if I believe that with Jesus, he is enough….. In ENOUGH I am not yearning for the next thing. I'm not comparing myself with other people! I'm not acting in fear. I'm not living in the land of anxiety and the land of hopelessness is banished from the horizon.
In the Land of Enough there is no fear of missing out, no FOMO, because I'm right where I am supposed to be. In Enough I am content with where I am and what is happening today, not wishing for the next thing or yearning to be somewhere else.
The Lord is my shepherd, I have ENOUGH….Time, Resources, Focus, Work, Creativity, Love.
I need to ask for forgiveness Jesus. Please forgive me that too often I act like I don't have enough. I act like I don't trust you that you are guiding me beside still waters and leading me to green pastures. Forgive me for doubting that you have just the right stuff planned for me. Jesus, I 'm sorry. Help me to Live in the Land of Enough! Not in the land of scarcity. Not in the land of fear. Not in the land of anxiety and missing out. Help me to live with you in the land of Enough. Help me Jesus to know You are enough!
How about you? What does it mean to you to be in the land of ENOUGH?
Read the 23rd Psalm out loud in a couple of different translations. Listen for God's invitation to you rather than a demand or command.
How does it feel to be invited to be in green pastures and beside still waters?
How or where do you experience beauty? What things bring you comfort and joy? Do you thank God these things? Take some time to be thankful for God's care and for the beauty you see/experience in your life.
How does it feel to know that God has your back? That God knows what you need and is guiding you?
Maybe you are not feeling like you are being led by still waters. Maybe life is stressful or the path doesn't feel like it's going towards green pastures. Maybe the land of Enough is too far away and feels impossible. Talk to God about this. Allow God to show you God's comfort, love and path.
Together this week, let's practice living in the Land of Enough and remember our Shepherd's care.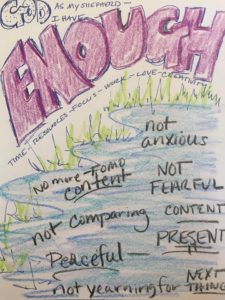 freerangeworship.com