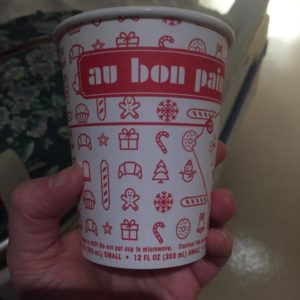 By Lilly Lewin
This week I've spent a lot of time at the hospital with a friend who is sick. I've been making pilgrimages through the maze of the hospital down to the coffee shop called Au Bon Pain for sustenance and coffee. Thankfully even the decaf is good there! But I discovered the disheartening fact that the holiday cups are already out! It's mid October! And in Nashville it's still warm! So it's not even feeling like fall, much less Christmas! I'm not sure how you guys in Australia and Southern California do it with warm holidays. I prefer cold weather most of the time, but especially for the holiday season. I also noticed that Christmas lights and decorations are creeping into the stores, especially the craft stores so I guess I shouldn't be surprised that coffee shops are ready for the season. But i'm just not feeling it. Christine Sine reminded me that our theme for the next couple of months is "Joy to the World." I have to admit, that the brightly decorated coffee cup does bring a smile and it's encouraged me to consider just what is in my cup today? And realize that I need to pour out a lot of stuff that is keeping me from experiencing Joy. What about you? What's in your cup?
Grab a favorite cup. Or you might go on a mission to find a cup that will make you smile and bring you joy just look at it or just to hold it in your hand.
Hold that cup in your hands. Feel the texture of the vessel. What are the things you like about this cup?
Consider the cup as your life. (if you've not read Joyce Rupp's Cup of Our Life check it out)
What is your cup filled with today?
Honestly, my cup this week has been filled with worry for my friends in Northern California who are dealing with overwhelming wildfires. Many have had to evacuate and some have lost everything. I lived in Napa Valley for four years so I know exactly where these fires are burning and all the beauty the fires are destroying. My cup is filled with grief for the loss of lives, homes, livilhoods, and for the beauty.
As you hold your cup, Talk to God about what is in it today….
Allow the Holy Spirit to show you. What are the fears, worries, problems that may be floating in or filling up your cup? Name them out loud.
You can even fill your cup with liquid to symbolize those things, or write them on small pieces of paper and put them in the cup.
Give these things to God.
If you've chosen to put liquid in your cup, go to the sink and pour it out. Or symbolically turn your cup up and pour out the things that are there. Giving them to God.
Hold your cup again. What are things you'd like to be in your cup today?
What would you like your cup filled with? What things do you need in your cup today? Talk to Jesus about this!
Jesus, I'd like my cup to be filled with Joy!
Jesus, I'd like you to fill my cup with your love.
Jesus, I need you to fill my cup with hope even in the midst of the craziness and uncertainty around me.
Jesus, Remind me of this cup of love when I get scared, frustrated and confused.
Help me to know that you are holding me just like I am holding this cup. Thank you for filling my cup daily with good things.
AMEN
Keep that cup near you in the days and weeks ahead to be a symbol of God's love, joy and hope!  Allow the cup to remind you of what you need it to be filled with. You can write down what you need in your cup and put it in the cup as a physical reminder too. Or draw a picture or take a picture of the cup as a reminder. And when you feel your cup being filled with fear, anxiety, bitterness, etc. Go to the sink and pour it out! And Ask God  for a better refill!