by Christine Sine
It has been a hard week for many of us. Even those of us who do not live in the path of the hurricanes, monsoons or earthquakes have been glued to the T.V. screen. It's stressful, makes us anxious and disturbs our equilibrium. How do we regain our calm center at a time like this. A couple of months ago I wrote this post 10 Tips For Resting Through the Day which spells out some of the practices I have found helpful, but this week I find myself reaching into my creative center to sustain me.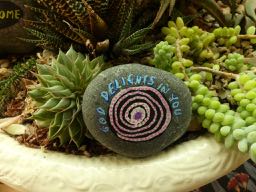 I put together a new contemplative garden made from recycled materials and imperfect painting as a reminder of the imperfections in my own life as well as in the world around me. I am heartened by God's ability to bring renewal in the midst of all things.
I am recycling containers for my garden and started at our local Good Will Thrift store to look for glass jars and dishes. This was inspired by my friend Pam Pott in England who uses recycled glass to create art. She takes the call to bring renewal and transformation to all creation seriously and sees this as one expression of that.
I am recycling plants. I love the way my succulents send out babies at this time of year and watch some of them daily to see what is developing.
I am recycling rocks. I am using a rock from the garden that I first painted on last year. I have painted a background to cover the original design and have restored and renewed it for another season
I am highlighting my imperfections. I hesitated to share this design with you because I see so many perfectly painted rocks on Pinterest that my own efforts seem very inferior. But as I thought about this today I was reminded of the Japanese art of Kitsugi which makes art by mending broken crockery with gold resin. It reminds me that all of us are broken imperfect people and allowing those imperfections to hang out can be life giving to both us and to others.
I am relishing the fact that God delights in me.  To counteract the draining messages of death and destruction and the confusion it brings to my view of our loving God, I wrote God delights in me prominently around the design.  I look at the words frequently through the day and recite them to myself. Sometimes I pick up the rock and hold it in my hand. It fits perfectly. It comforts me.I also wrote out Psalm 147:11 the 

Lord

 delights in those who fear him, who put their hope in his unfailing love. in my journal and have been using my gel pens to emphasize my awareness of God's delight. It reminds me that God is my rock, my fortress, my deliverer. No matter how strong the storms God is always with me, not punishing but delighting in me.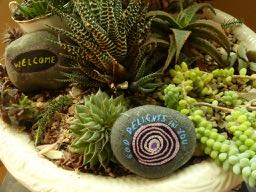 What Is Your Response?
What is one way that you destress and center yourself afresh on God? Set aside time today for that centering activity.
Watch this powerful video and take a few minutes to relax in the knowledge that God our rock is always our refuge and our salvation.