by Christine Sine
I love this season of the year. The tomatoes and squash are ripening, the figs and pears have been harvested and we are about to harvest our apples. The flavours of fruit and vegetables fresh from the garden are a delight. Food as God intended it to be. Some of you may remember this prayer which I wrote last year at this season and the reflection I wrote on savouring the flavour of God which I am reminded of again as I process the abundance.
Part of what I love is the joy of creating new recipes to cope with the overflowing abundance. As I savour the new flavours I can imagine God standing beside me relishing them with me.
Here is a salad I made this weekend that the flavours of still seem to linger in my mouth. I thought some of you would enjoy it too.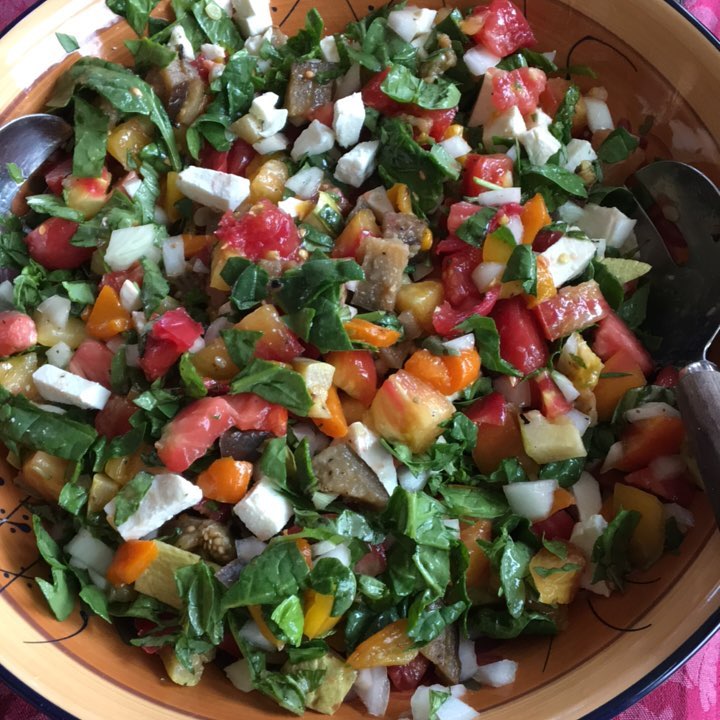 Tomato, basil, eggplant and mozzarella cheese salad
4 large tomatoes
1/4 eggplant
1 yellow and 1 green summer squash
1/2 red and 1/2 yellow bell pepper
1/2 sweet onion
1 cup basil
2 cups spinach
8 oz mozzarella cheese
kalamata olives (optional)
1/2 cup bean sprouts (optional)
Dressing
1/2 cup olive oil
1/4 cup balsamic vinegar
1 teaspoon mustard
Cut eggplant and squash into 1/4 slices, coat with olive oil and garlic salt ( I also like to sprinkle the squash with Penzeys salsa and pico mix)  and broil on both sides until cooked. Allow to cool Place bell peppers under the broiler skin up and cook until skin is blackened. Place in a paper bag for half an hour. Peel off skin.
Cut eggplant, squash, tomatoes and mozzarella cheese into 1/4 squares and peppers into thin strips. Place in a large salad bowl. Dice the onion, shred basil and spinach. Add these to the mix. Add kalamata olives and bean sprouts if desired and mix well just before serving.
Mix oil, vinegar and mustard together. Add to salad or serve separately.
I served the salad with Parmesan Garlic bread, Olive tapenade and pesto and it was delicious.
What Is Your Response?
Let's have some fun. Watch the video below and think about the food that you enjoy.
Are there flavours that you love to savour at this season of the year whether it be the autumn abundance of the Northern hemisphere or the first fruits of spring in the Southern? Sit and think about those flavours and the recipes that enhance them and allow you to appreciate them to the full. Perhaps you could set aside some time to make your favourite recipe as an offering of praise and thanksgiving to God.
Imagine God enjoying these flavours with you. Recite Psalm 34:8 Taste and see that the Lord is good several times. What comes to your mind? Is there a way that God might ask you to respond.