By Alice Hoefkens —
In the early stages of my faith journey I had not recognised hospitality as part of being in relationship with God.  Mine was a doctrinal faith, I was bound by the law. The many many scriptures that reference hospitality, generousity, giving simply passed me by and remained unregistered.  At a late point in my life (middle age) I did an Alpha course where hospitality is key to engaging with participants on the course. Things began to dramatically change for me and I entered into a personal relationship with God through Jesus.  My own understanding and experience of hospitality was elevated too and I recognised for the first time the significance and shaping of faith through hospitality and giving.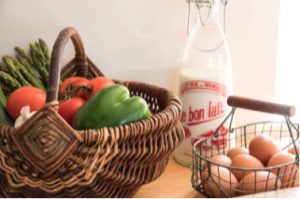 I was working in a psycho-geriatric care home which was run by an order of nuns, The Sisters Hospitallers, whose whole mission and ethos is hospitality.  No coincidence here, on reflection I can see God very specifically moving me into a place and among people where this aspect of my faith could be developed further. I had no experience as a carer, but Sister Isobel acted on faith and gave me a job.  Teaching and training me in the beautiful art of selfless giving.  I had the privilege of working with these Sisters and the elderly residents in their care.  Coming alongside them at end of life and supporting this very important final chapter of human life.  It was a pivotal time for me and a spiritual prompt after listening to a prison chaplain speak resulted in my volunteering to assist in a maximum security prison chaplaincy.  This took several years to achieve which I found frustrating and demoralising, but God's plans are always executed in His perfect timing, the blink of an eye,  I was not ready when I thought I was and needed reining in somewhat.
The fire of the Holy Spirit had filled me with confidence, but skill and experience were still lackingin the true grace that is hospitality.  At the prison I facilitated Alpha courses initially and I soon realised that hospitality would play an enormous part in gaining trust and building relationship with broken men. The Alpha course and the Bible studies I led always commenced with tea/coffee and biscuits or cake.  This was permitted by the prison and was unusual, 'A' cat prisons do not encourage a soft approach with the inmates.  Initially, the men who attended came for the goodies.  I was under no illusion that it was for scriptural enlightenment and spiritual growth.  However, over time, doors opened for me in extraordinary ways and I became known within the prison walls as the 'kind' chaplaincy lady.   A reputation for hospitality had grown into something more, the men trusted, believed and began to try to emulate this same 'giving' amongst themselves.  This is also rare in high security jails.  Most inmates hold on to their goods tightly, everything is currency in prison and when you share two things can happen – you will never be paid back and you will be viewed as weak.  So it's a risk, but these groups of men gradually relinquished and replaced suspicion and fear with confidence and hope.  Not completely, but enough to create an empowering environment in which to forge a decent life together while serving their life sentences.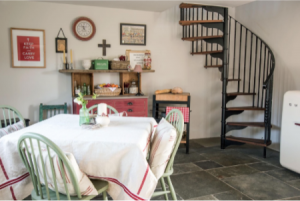 My days at the prison are over now and this year my husband and I launched the Annexe at the bottom of our garden as a holiday rental.  Again I felt a deeper need to express welcome and generosity to strangers through this new enterprise.  Over the 3 years of building the Annexe and fitting it out I carefully searched and sourced things of beauty and comfort, things I hoped would wrap themselves around our guests and bring rest and restoration.  The world is full of broken, tired and overworked people, many of whom haven't realised they are broken.  In putting the Annexe together, it was my intention to create a space that offers everyone everything, and more precisely exactly what each individual needs when they come to stay – often they don't know themselves what that is…..  We did not strive for perfection but for excellence.  A simple life lived well for the time they are there and a memory to take away of having found a part of the kingdom right here, a land of milk and honey.  The 'welcome basket' is part of the hospitality, filled with goodies, but also filled with love. So far our visitors have all spoken their delight in the Annexe.  It's healing and welcoming properties.  The treats and surprises have made them feel special.   So my faith training in hospitality continues to expand, I listen to the Teacher and for many years have held Jesus's words in Luke's gospel to be my own mission statement:
"Give, and it will be given to you. A good measure, pressed down, shaken together and running over, will be poured into your lap. For with the measure you use, it will be measured to you."
There is a picture on the wall of the Annexe 'The measure of love, is to love without measure', this is the hospitality we receive from our Lord daily and one we are trying to mirror in the Annexe.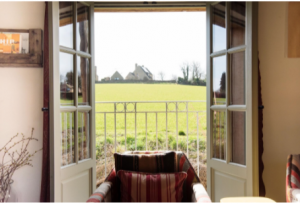 Jacob's words at Bethel 'surely this is a house of God, the gate of heaven'  have figured in my own prayer life this week – presenting and representing themselves – I had contemplated and meditated on them to see where and how God speaks into my life with such persistence.  In writing this I can see that God Himself has filled the Annexe, not me, nor my husband, but the love of God in us, for us, through us has made it something that is a measure of grace for all.  Hospitality at it's best.  All of those scriptural references are now banging at the door of my heart and make the most perfect sense of God and the true nature of hospitality.  Still on the journey, still learning, still practicing the hospitality of giving.