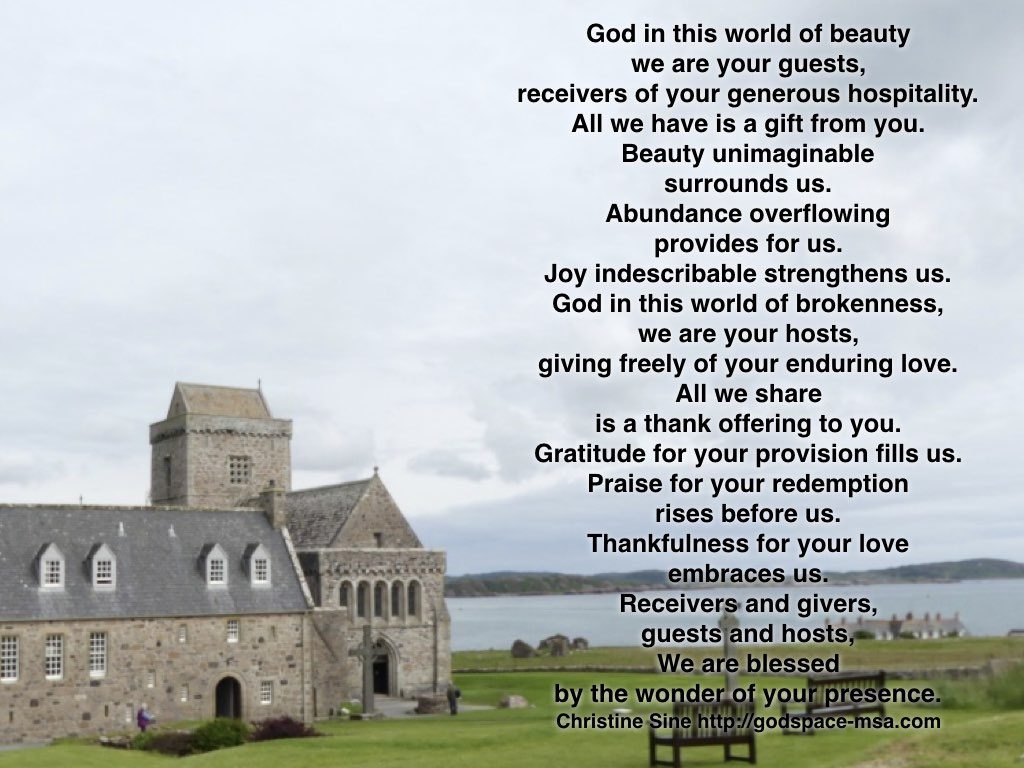 by Christine Sine
I am writing this from Edinburgh where Tom and I have landed after our wonderful retreat time on Iona. As I reflect on these first 10 days of this celebration of our 25th anniversary, I am very aware of the lavish hospitality with which we have been blessed. From our time in London where we stayed with a community of people we had never met before, to visits in Durham and now in Edinburgh with friends we have known for many years, the richness of God's hospitality to us is almost overwhelming. And then of course there was Iona, a very special place that has given the gift of hospitality to thousands over the centuries. All so special.
Today I recognize myself as both a guest in God's world and a host for God's world. All I receive is a generous gift of God's lavish bounty. Beauty, abundance, joy, all these I have received and much more. I pray that I will always take notice, always be grateful and always be willing to share, giving generously just as I have been given to.
Celtic Christians saw themselves as hospites mundi, or guests of the world, living lightly on this earth and not becoming attached to possessions or to one location. These followers of Christ, saw all of life as a pilgrimage, a journey towards God on which they were dependent on God for daily provision. 
Celtic Christians also believed that hospitality was not only meant to be a custom in their homes, it was a key into the kingdom of God. They were not only guests but also hosts. To offer hospitality was seen as receiving Christ into their midst and fulfilling the law of love. 
My visit to Iona has made me very aware of my status as a guest and my responsibility as a host in God's world. Every time someone prepares a meal for me, smiles at me, helps me with my bags, shares their hopes and joys with me, I am a recipient of Gods hospitality. Every time I give a smile, say thank you, acknowledge the generosity of friends and strangers, I am becoming a host for God. And in Seattle, even from a distance we are hosting friends and strangers alike in our home. I pray that I will always share with joy, reach out with compassion and embrace with God's love.
What Is Your Response?
As I continue to travel over this next month I plan to reflect more on my status as both guest and host. There are two questions I will ask myself each day that I encourage you to contemplate too.
What have I received today as a gift from God?
What have I given today as a thank offering for God's hospitality?