Music is a great way to build community … and more and more communities are finding creative ways for music events to be freely open to all participants.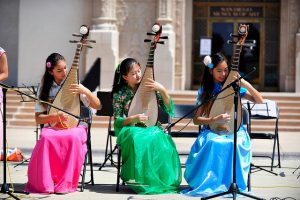 Make Music is a free celebration of music around the world on June 21st. Launched in 1982 in France as the Fête de la Musique, it is now held on the same day in more than 750 cities in 120 countries.
Completely different from a typical music festival, Make Music is open to anyone who wants to take part. Every kind of musician — young and old, amateur and professional, of every musical persuasion — pours onto streets, parks, plazas, and porches to share their music with friends, neighbors, and strangers. All of it is free and open to the public. For more information see http://www.makemusicday.org/. For participating locations, see http://www.makemusicday.org/cities/worldwide/
As well as such one-day events, much good can come from a longer cross-cultural commitment. 'Musicians Without Borders' is a group that "uses the power of music to bridge divides, connect communities, and heal the wounds of war." They have programs in the Balkans, in the Middle East, Central-East Africa, and Northern Ireland. Learn more at
https://www.musicianswithoutborders.org/
The Bible encourages us to "sing a new song to the Lord" multiple times. It's also good to sing songs with our local communities, and to use music as a bridge to healing in war-torn places around the world.