by Lilly Lewin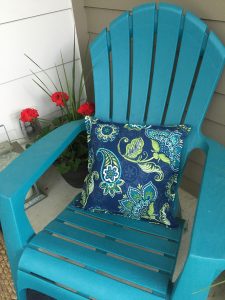 I have found myself whining a bit more that usual this week… about the stress of politics, the stress of dealing with an old dog on his last leg, about my lack of productivity and the fact that my to do list keeps getting longer rather than shorter. Recently I read somewhere that May is one of the most stressful months of the year. In the states, it's usually the mad dash of end of school activities before summer begins. And sadly we no longer have the lazy days of summer; instead there are camps, swimming lessons, work, conferences, family trips, and DIY projects that fill up the calendar. Sometimes we just need to stop and rest! We all need to be a little more like Mary and a lot less like Martha. Take some time this weekend to sit with Jesus and just BE. And make the time in the next few weeks to be more Maryesque and less Marthaish
SITTING WITH JESUS
LUKE 10: 38-42 At the Home of Martha and Mary
As Jesus and his disciples were on their way, he came to a village where a woman named Martha opened her home to him. She had a sister called Mary, who sat at the Lord's feet listening to what he said. But Martha was distracted by all the preparations that had to be made. She came to him and asked, "Lord, don't you care that my sister has left me to do the work by myself? Tell her to help me!"
"Martha, Martha," the Lord answered, "you are worried and upset about many things, but only one thing is needed. Mary has chosen what is better, and it will not be taken away from her."
Are you too busy to sit with Jesus?
Are you too busy complaining about other people to just BE with Jesus?
SIT DOWN
Consider all the conversations happening in this passage.
Those in the kitchen, those in the living room.
What about the disciples? Are they hanging out with Jesus too?
Or are they looking for snacks in Martha's kitchen?
Are they getting in her way?
Is Martha whining to herself before she confronts Jesus?
Or is she whining to someone else?
Where are you in this story?
Are you in the Kitchen working hard?
Or are you sitting at the feet of Jesus being present with Him?
Consider how you are living right now.
Are you really being present with Jesus?
Or are you just whining in the kitchen?
Are you complaining that others aren't helping you?
Do you really just need to STOP and rest in the presence and love of JESUS?
Sit down here with Jesus and BE PRESENT.
Have a conversation.
Take the Time.
Put away your whining and your busyness.
BE WITH JESUS!
REST
BE STILL
SIT with Jesus and Listen to Him
BE WITH JESUS!
This is the REST station from the "At the Table with Jesus" Sacred Space prayer experience. found at freerangeworship.com