By Britni D'Eliso —
Every lazy summer evening and crisp autumn walk, I question whether or not spring truly is my favorite season.
And every time I see the first bright daffodil braving the winter gusts and smell the fresh air after the first fall of rain, it's confirmed: Spring is hands-down my favorite time of the year. Nothing beats the emerging glimpses of new life as the snow is melting and the earth is rebounding from the harshness of winter. Spring marks the return of vibrant colors and baby animal songs and no more defrosting the car windows early before work!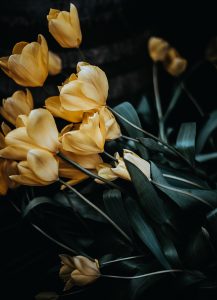 Even more importantly, spring reminds us that God redeems. He has established a creation that goes dormant each year, and faithfully springs up with renewed life within his perfect timing. For every downed branch in a winter storm, there is a brilliant bloom that pushes through the hardened earth to sing of new life.
Each year we embark on growth. We are welcoming one another into the garden of the life God has established to nourish his children. As we dig into (pun fully intended) scriptures and meditations that reference growth, gardens and new life, I invite you to explore patterns of regeneration, restoration and redemption that God might be working in you this spring.
This is what the Lord says—
    he who made a way through the sea,
    a path through the mighty waters,
 who drew out the chariots and horses,
    the army and reinforcements together,
and they lay there, never to rise again,
    extinguished, snuffed out like a wick:
"Forget the former things;
    do not dwell on the past.
See, I am doing a new thing!
    Now it springs up; do you not perceive it?
I am making a way in the wilderness
    and streams in the wasteland.
 The wild animals honor me,
    the jackals and the owls,
because I provide water in the wilderness
    and streams in the wasteland,
to give drink to my people, my chosen,
    the people I formed for myself
    that they may proclaim my praise. Isaiah 43:16-21
Britni is a quiet but fearless spirit who is earnestly seeking the beauty of the redemption that Jesus has personally determined for her life. Committed to the truth that listening breeds understanding and understanding results in compassion, she clings to the power of life's stories. She has embarked on the venture of discovering her own story and lending an ear to the stories lived out in others and savors the trace of Jesus that is woven throughout them all. Currently, that journey has landed her in a balancing act between the role of wife, momma, and a mental health therapist.