Now the Lord God had planted a garden in the east, in Eden; and there he put the man he had formed… The Lord God took the man and put him in the Garden of Eden to work it and take care of it."Genesis 2:8,15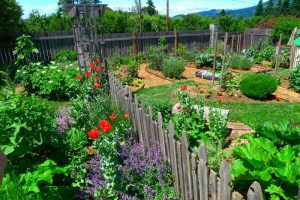 God was the first gardener. Creating and establishing the first trees, shrubs, and other forms of vegetation, then placing humankind into the garden, God establishes what a healthy relationship between humankind and the rest of creation is to look like. The most literal translations have God charging us not to exploit, but to care for and tend the creation God called "very good".
Jump forward to Resurrection Day. Mary mistakes the risen Jesus for a gardener and that, he was! All those references he made to seed and death and life are now embodied in his resurrection.
Of course, none of this is new, but it did get me thinking. As I plan for this year's garden, start seeds in our little sunroom, and prepare the garden beds for planting, I can't help but reflect on how these simple acts relate to God's profound acts of love and grace as God walks with creation throughout history.
Take a moment to reflect on Genesis chapter 2:
Do you see your relationship with creation as one of a caretaker?
Are there ways you might change how you live to better reflect God's command to nurture and care for creation?

List three practices to begin this week to move closer to God's design for us as caretakers.
Now imagine all of your life experiences and actions as those of a gardener:
What are your favorite things to "plant"?
What things do you spend most of your time "tending and nurturing"?
When looking at your life-garden, what do you "water"?

What things could benefit from more water?

Are there things that need "pruning"?

What are they, and how might you begin this week to approach them?

Are there "plants" that are invasive, taking over, and need to be eliminated?
Finally, imagine your garden as a place of hospitality and sharing:
How do you share your "harvest"?

Are there things you just make available for others to glean?

Are there "garden beds" you help prepare for others to plant in?

What are they, and how do you nurture the best soil possible for others?
Using the language of gardening is a thought-provoking way to look at our lives and the choices we make. For me, the metaphor gives me a creative way to evaluate my choices and actions and frees me to see new ways of approaching areas where I've previously been stuck. It also helps to expose attitudes and actions I hadn't even considered, blind spots that really don't line up with the faith I profess.
Please comment below and let me know if this exercise is helpful. And share your questions and ideas that go beyond the ones I've listed above.
---

Andy and Christine will be leading a curated lunch during the Inhabit Conference in Seattle (April 28-29) exploring the connections between gardening, hospitality, and shalom.