by Christine Sine
This is my favourite Earth Day prayer and one I like to reuse each year.
I also have a few books I love to revisit at this time to remind myself of why I need to take my call to care for creation seriously.
It is impossible for me to list all the books that make good reading for Earth day or for our concern for creation from a faith perspective. Here are a few that I have read in the last couple of years that I recommend:
Creation Care, Ecology and Climate Change
Creativity, Contemplation and Gardening
Food, Faith and the Spirituality of Gardening
~Special thank you to Leah Schade for providing many of the links above in her Lenten Devotional book, For the Beauty of the Earth. The Mustard Seed House has been reading it together as a community during this Lent season and have really enjoyed researching the environmental stewardship groups that are highlighted in this book.~
Don't see a book that you recommend? Comment below to share with us!
---
Note: As an Amazon Associate I receive a small amount for purchases made through these links.
---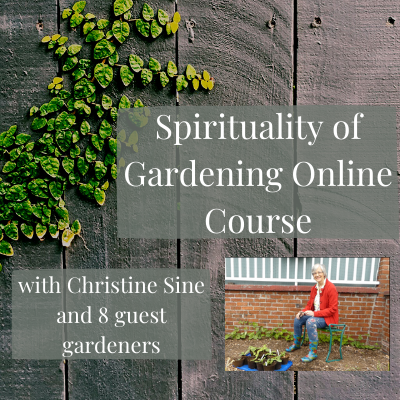 Come the spring with all its splendor all its birds and all its blossoms. All its flowers and leaves and grasses.
~ Goodfellow
Explore the wonderful ways that God and God's story are revealed through the rhythms of planting, growing, and harvesting. Spiritual insights, practical advice for organic backyard gardeners, and time for reflection will enrich and deepen faith–sign up for 180 days of access to work at your own pace and get ready for your gardening season.
Spirituality of Gardening Online Course