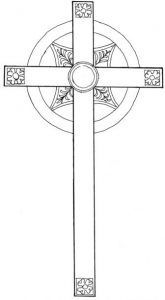 by Lynne Baab
Holy Saturday is the day of hushed stillness between Good Friday and Easter. The disciples mourn because this powerful and loving One, who promised to bring life, is dead. The angels weep that the beloved Son of God has been forcibly, but willingly, separated from his Father in the cruelest imaginable way.
Where was Jesus on Holy Saturday?
Was he lying quietly in the tomb, truly dead, while his Father planned the resurrection?
Was he in hell? In the Apostle's Creed we say that we believe in Jesus Christ, God's "only Son Our Lord, Who was conceived by the Holy Spirit, born of the Virgin Mary, suffered under Pontius Pilate, was crucified, died, and was buried. He descended into Hell; the third day He rose again from the dead." Some theologians argue that Jesus broke open the power of hell by invading it as a Righteous One.
Was he in the realm of the dead, but not in hell? Acts 2:31 reads, "Foreseeing this, David spoke of the resurrection of the Messiah, saying, 'He was not abandoned to Hades, nor did his flesh experience corruption'" (NRSV). Biblical scholars argue that Hades is not the same as hell, but instead means some sort of realm of the dead, and this verse may indicate that Jesus went there after his death, but of course, did not stay there.
Was he preaching the gospel to the dead or to angels, powers and principalities? 1 Peter 3:18-19 (NRSV) reads, "He was put to death in the flesh, but made alive in the spirit, in which also he went and made a proclamation to the spirits in prison." Some commentators argue Jesus was in hell or Hades, preaching to souls there. Others say that "spirits" in the New Testament only refers to angels or demons, so if he was announcing something to spirits, he was probably communicating to angels and demons that he had conquered death through his own death.
Kimberlee Conway Ireton, in her excellent book on the church year, Circle of the Seasons, describes an Eastern Orthodox icon showing Jesus "striding victoriously into hell and reaching out in love even to the dead and the damned."[1] She notes that this image reminds us that there is no place that God is not. And in the Eastern Orthodox tradition, even on Holy Saturday when Jesus' body lay in the tomb, he was bringing freedom to captives and prisoners.
Kimberlee summarizes the paradoxes of this day:
Holy Saturday, then, is a day of contrasts. We mourn our dead Lord even as we prepare for the celebration of his resurrection. We grieve his broken body lying in the tomb even as we celebrate his triumphant march against the gates of hell. We sorrow at the foot of the empty cross even as we anticipate the true and glorious meaning of its emptiness.[2]
Kimberlee writes about one year when she ate only cold food between the Maunday Thursday service at her church and Easter morning. Cold food, she says, means that no electricity has been used in preparing it, mirroring in a small way that the Light has gone out of the world.[3]
Holy Saturday is an excellent day for any kind of fasting, perhaps from a favorite food item, a form of technology, coffee drinks, entertainment media, or shopping. The Light has gone out of the world, and on this sad day we are invited to enter into the sadness and emptiness of that reality.
On Holy Saturday, where was Jesus? In the tomb? In hell or Hades freeing prisoners and captives? Somewhere in the universe proclaiming to angels and demons his victory? Whichever it was, he was cruelly separated from his Father for our sakes, waiting for the resurrection. Praise God for his great gift to us in Jesus. May we pause on this day and remember.
[1] Kimberlee Conway Ireton, The Circle of the Seasons: Meeting God in the Church Year (Downer's Grove, IL: InterVarsity Press, 2008), 82.
[2] Ibid., 83.
[3] Ibid., 85-86.