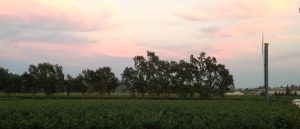 By Lilly Lewin
Many of us who work in churches are exhausted the week after Easter. We've just worked many long days in a row, and led or planned for many services and activities all in preparation for the big Easter Sunday. And if you don't happen to work for a church, you still have probably been super busy getting ready for family and friends to celebrate the Easter holiday, and probably very busy with school and sport activities for either yourself or your family members. Or maybe, it's just work that has overwhelmed you so you are looking forward to a much needed nap on the couch Easter Sunday!
Today I want us to look beyond Good Friday and even beyond Easter Sunday.
I want to remind us that Easter is a Season of the Church Year, not just one day.
The Season of Easter is actually 50 days, That means we get to keep celebrating NEW LIFE and Resurrection, and keep the experience of this joy going way beyond Easter Sunday.
I am challenging myself, and you, this week after Easter, to find time to get outside and be with Jesus in Nature. Take the time to have a Sabbath day beyond Sunday. Take a mini retreat to restore and get refreshment. It may sound impossible, but take an entire morning off or part of an afternoon. If you have kids, find a friend who will babysit for you and then return the favor so he or she can also have time for a Sabbath or retreat time. Make space in your schedule to have time to just BE with God.
When we lived in Napa Valley, we hosted a gathering called "Time in the Vines" or "Porch Time." We invited people to come spend the morning with us on our porch and in the vineyard where we lived being with God in nature. I would curate the reflection time and my husband Rob would prepare lunch for everyone. We would often listen to a passage from the Bible and then I would give people questions to consider while they were being quiet either sitting on the porch or walking out in the vines. This is one of the reflections we did during Easter a few years back.

Porch Time (Your Mini Retreat/Sabbath Day begins Here! )
Thanks for taking the time out to be still and just BE!
"God is the friend of silence. See how nature—trees, flowers, grass—grows in silence; see the stars, the moon and the sun, how they move in silence…We need silence to be able to touch souls." Mother Teresa
Opening Prayer:
There is nothing more important than what we are attending to.
There is nothing more urgent that we must hurry away to.
We Wait on you God.
Your time is the right time.
We wait for You to make Your word clear to us.
We know that in time
and in the spirit of deep listening
and in quiet stillness
Your way will be clear. AMEN ( based on a prayer by Thomas Merton)
We are in the season of Easter…the days between the Resurrection and Pentecost.
Sometimes we forget that Easter isn't just one day. Easter is a Season of the Church Year and the Season of Easter is actually 50 days long. That means we get to keep celebrating NEW LIFE and Resurrection and keep the experience of this joy going way beyond Easter Sunday.
Sit and Look and Watch or Take a Walk and Look for " Little Easters." Joy Spots, Happy Places, and or Signs of Resurrection and New Life. Joyce Rupp calls the things we see and experience, the things that bring us new life and make us smile and hopeful
"Little Easters." Today watch for these!
Allow God to talk to you through nature: the wind, the vines, flowers, trees, etc.
What newness do you need in your life right now? What kind of refreshment or resurrection?
Spend some time with that and talk to God…journal, walk, create something in art.
READ the Scripture 2-3 times and Listen
LUKE 24 the Road to Emmaus
13Now that same day two of them were going to a village called Emmaus, about seven miles[a] from Jerusalem. 14They were talking with each other about everything that had happened. 15As they talked and discussed these things with each other, Jesus himself came up and walked along with them; 16but they were kept from recognizing him.
17He asked them, "What are you discussing together as you walk along?"
They stood still, their faces downcast. 18One of them, named Cleopas, asked him, "Are you only a visitor to Jerusalem and do not know the things that have happened there in these days?"
19″What things?" he asked.
"About Jesus of Nazareth," they replied. "He was a prophet, powerful in word and deed before God and all the people. 20The chief priests and our rulers handed him over to be sentenced to death, and they crucified him; 21but we had hoped that he was the one who was going to redeem Israel. And what is more, it is the third day since all this took place. 22In addition, some of our women amazed us. They went to the tomb early this morning 23but didn't find his body. They came and told us that they had seen a vision of angels, who said he was alive. 24Then some of our companions went to the tomb and found it just as the women had said, but him they did not see."
25He said to them, "How foolish you are, and how slow of heart to believe all that the prophets have spoken! 26Did not the Christ[b] have to suffer these things and then enter his glory?" 27And beginning with Moses and all the Prophets, he explained to them what was said in all the Scriptures concerning himself.
28As they approached the village to which they were going, Jesus acted as if he were going farther. 29But they urged him strongly, "Stay with us, for it is nearly evening; the day is almost over." So he went in to stay with them.
30When he was at the table with them, he took bread, gave thanks, broke it and began to give it to them. 31Then their eyes were opened and they recognized him, and he disappeared from their sight. 32They asked each other, "Were not our hearts burning within us while he talked with us on the road and opened the Scriptures to us?"
33They got up and returned at once to Jerusalem. There they found the Eleven and those with them, assembled together 34and saying, "It is true! The Lord has risen and has appeared to Simon." 35Then the two told what had happened on the way, and how Jesus was recognized by them when he broke the bread.
Things to Consider while Journaling:
• How do you recognize Jesus on the Road? What things help you to see him?
• What things keep you from recognizing Jesus? What things blind you to God/Jesus? And keep you from really seeing?
• The Two invited Jesus to stay with them, even though they didn't know who he was. They practiced hospitality. How do you view hospitality today? Anyone you need to invite over?
• The Two on the Road were filled with grief? Any things or people you are grieving today? Talk to God about this. Allow God to love you in the midst of it.
• What things need to happen this week in order for you to feel like you see rather than be blind?
• What things need to happen in you in order for you to see Jesus rather than to be blind to Him?
• Notice the plant life…
Depending open where you live, what state or what hemisphere, what is growing? What is not? What is growing in you today? What do you want God to grow in you this Easter Season?
Take some time and talk to God about this.
——
I hope you have a wonderful Easter Sunday and feel the love and power of Jesus surrounding you. Remember to keep looking for
"LITTLE EASTERS," "HAPPY PLACES" and/or "JOY SPOTS" beyond Easter and even beyond your mini retreat. Take the time to notice! Look and watch for things that remind you of resurrection. Look for and start watching for things that make you smile, laugh, or bring you joy! Keep a list of these things. You might even start a photo collection of these. Take a photo on your phone. Create a photo collage at the end of the day/week and post on facebook or instagram. Print out a copy of your joy spot photos to keep in your journal to remind you of how Jesus is blessing you! Remember to thank God when you recognize the joy spots and Little Easters along your way! And keep celebrating Easter all the way to Pentecost!