Titles have never been my strong suit.
I used to write regularly for a Christian newspaper, and no matter how hard I worked on the titles for my articles, they would inevitably be changed in the editing process. Today when I write a sermon, the title often comes to me last, only after the sermon is finished.  Even as I write this article, I'm saving the title until the end.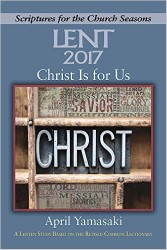 So when Abingdon Press invited me to write a Lenten Bible study for 2017, I didn't mind at all that the title had already been chosen. To follow up their previous Advent study called God Is With Us, the editor had chosen Christ Is for Us for Lent. The two titles worked together beautifully—the God who is with us during Advent and Christmas would become the Christ who is for us during Lent and Easter.
For the next months, as I lived with the Revised Common Lectionary texts for the Lenten season, I continued to deepen my understanding and experience of Christ is for us. When Jesus spoke to the Samaritan woman at the well with respect (John 4:5-42), when he gave sight to the man who had been born blind (John 9:1-41), when he raised Lazarus from the dead (John 11:1-45), he showed that he was on their side. The presence of deep social division, disability, and even death did not prevent him from reaching out, coming alongside, and transforming their lives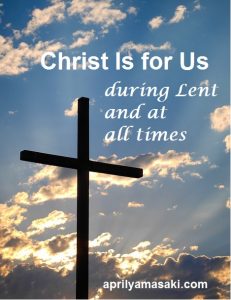 Today we also face deep social divisions–a host of "isms" around the world and between people who live in the same country and city, and sometimes even on the same street and within the same church or family. We also struggle with various disabilities—both physical disabilities like the blindness of the man who received his sight and the spiritual blindness of some of the Pharisees. Like Lazarus and his family, we also face illness, death, and mourning, and Jesus comes alongside us with tears, words of comfort, and the promise of new life.
Christ is for us—what a beautiful message for the coming Lenten season. As we reflect on Jesus' journey to the cross, as we think on his suffering and death, we can be assured that Christ is for us. Whether we plan to give something up in memory of his suffering, or take on something new in anticipation of the resurrection, we do not do these things to win God's approval. Christ is already on our side.
What's more, this message is not only for Lent. While the Revised Common Lectionary designates certain texts for certain seasons, Scripture speaks across the seasons and to all of life. So yes, Christ is for us during Lent, and yes, Christ is for us at all times. We are not alone. We can rest in God's presence and healing, knowing that the Spirit is at work all year round.
---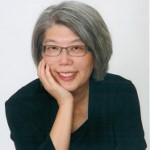 April Yamasaki serves as the lead pastor of a mid-size, multi-staff church, and is the author of Christ Is for Us, Sacred Pauses, and other books on Christian living. She blogs regularly on Writing and Other Acts of Faith and When You Work for the Church. Christ Is for Us: A Lenten Study Based on the Revised Common Lectionary is available from your favorite bookstore and in paperback, large-print, and e-book formats from Amazon, Barnes & Noble, Cokesbury.