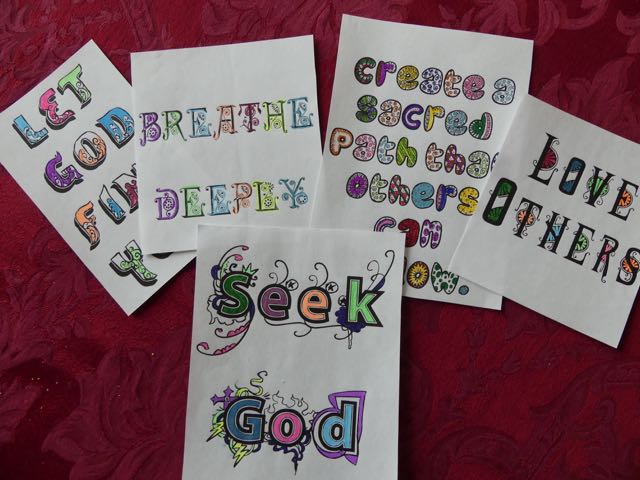 Last week I talked about my preparations for Lent, and the process I am planning to follow each week. This week I have worked on putting a special journal together for the season. I did something similar for Advent and so enjoyed the journalling experience that I decided to try it again.
For Advent I used this process, but found myself a little frustrated with my inability to add and move pages around in the journal I chose. So for Lent I started from scratch. It has been a very meaningful, reflective spiritual practice.
Collecting Materials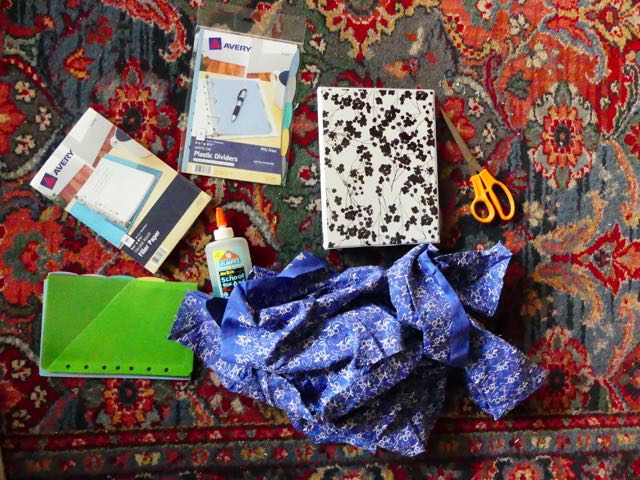 First I needed to take time to think about what I wanted to accomplish during Lent and what would best serve my purpose. I ended up buying a simple 5 1/2 x 8 1/2 binder, some filler sheets and dividers. I also found some parchment paper out in our office that I cut down to be small enough to add pages for doodling and colouring on.
Question: What would you like to see happen in your life this year? What would be the best form of journalling for recording your journey? What materials would you need to accomplish this?
Meditating on the Cover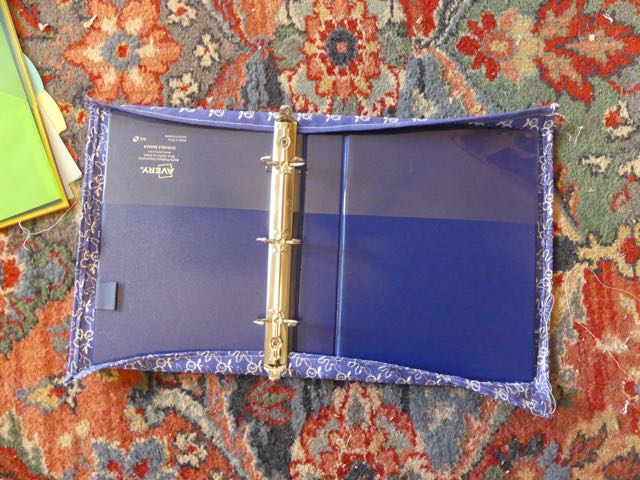 I didn't like the cover on the binder I bought so decided to design my own using recycled materials. I planned to use an old woolen sweater I had knitted years ago. It was worn out but as I often found with my own handiwork, I could not bear to throw it out so intended to wash and felt the wool. Unfortunately our water was switched off on the day I set aside for this project because of some plumbing work that was being done. So I had to rethink.
It was a chance to use my imagination and creativity in new ways. In my chest of sewing materials and found some scraps from a dress I made for our honeymoon 25 years ago. It is a beautiful piece of Swiss cotton my mother gave me. So as I cut it out, hemmed it on my sewing machine which I pulled out for the first time in 10 years, and crafted it to fit snuggly over the binder. You can imagine the thoughts that were going through my mind – memories of Tom's and my first days together, memories of my Mum and memories of the couple who gave me the sewing machine 30 years ago.
Who would have thought that making a journal cover could be such a wonderful experience!
Question: How could you make the creation of your journal into a meditative process? What might God say to you in the midst of it?
Putting the Pieces Together.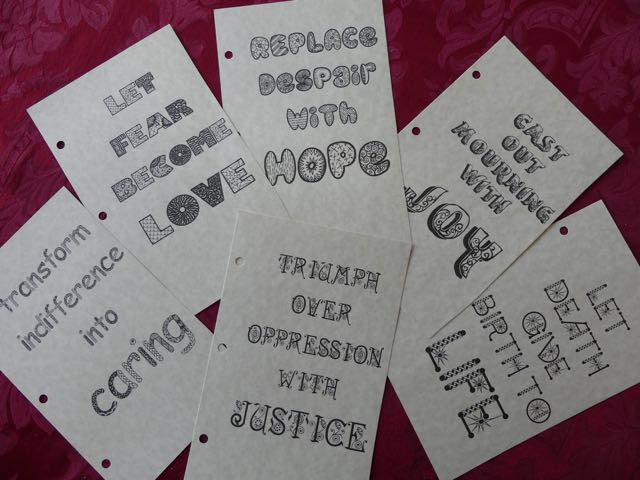 Part of what I enjoyed with my Advent journal was the colouring of the lettering of my weekly themes. So I decided I wanted to do this again for Lent. Once again I had fun choosing decorative themes:
Replace despair with hope – doodle gum
Let fear become love – zenfyrkalt
Cast out mourning with Joy – vtks encantar
transform indifference into caring – doodlowers
Triumph over oppression with Justice – spring
Let death give birth to life – Kingthings spyrogyra
I printed the words out on parchment paper so that the colour would not bleed through, punched holes in the pages and added them to the journal. I added some extra parchment pages to each section for creative doodling and drawing, some lined paper for reflection and separated each theme with tabs so that I could find where I am at easily.
Question: How would your project come together?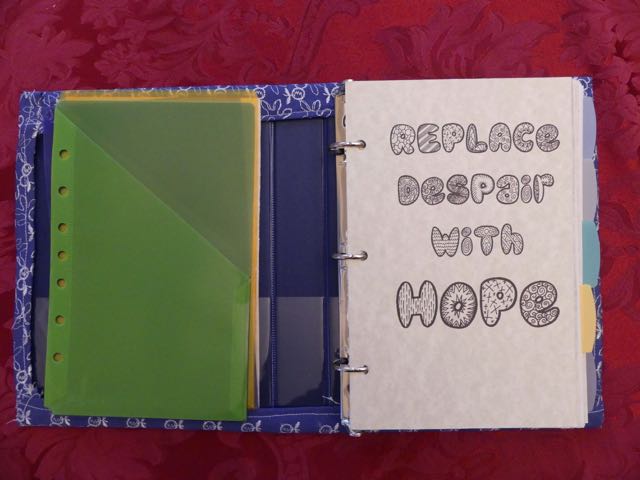 What Have I Learnt?
This has been a fun, reflective project as a preparation for Lent.
It made me think about the season with intentionality – what is the purpose of Lent and what to I hope to see happen in myself during the season?
It inspired my creativity. The moment I gave myself permission to think outside the box and imagine something new I felt God's creative energy welling up within me. We call ourselves co-creators with God yet rarely apply creativity to our spiritual practices
Obstacles I encountered were not roadblocks but opportunities to explore new paths. I could so easily have given up or put my project off when I realized the water would be turned off but I stopped to reflect on what new thing God would have me do instead. The new path was far more inspirational than my original thoughts.
Any activity can become a spiritual practices if we give it our full attention and listen to what God is saying in the midst of it. The entire project only took me about 3 hours, plus the time to purchase my supplies.
The process is as important as the product. Just as a journey is as important as the destination, so is the creative process as important and the product produced. We are not made to be consumers but creators and the process of creation enriches us and helps us grow.
Preparing for a new season can be fun, creative and inspirational. Not only did the process inspire me but I am looking forward to Lent with renewed energy and enthusiasm too.
Creativity is an never ending journey. I am not finished with my journal. I still want to create a design for the front cover, and I want to write out some of the prayers I have posted in the past from Dietrich Bonhoeffer, Mother Teresa and others , but this is enough for now. I will mull over it and allow the spirit of God to lead me in the weeks ahead knowing that in the process God is indeed leading me out slavery and into new freedoms.
What is Your Response?
Last week I asked you to join me on this journey towards the rebirthing of Easter. Lent is meant to be a season of transformation. It is a time to create new ways to move forward into the purposes of God., to prepare us for the new life of Easter. I pray that you will take time to consider your own Lenten journey and how God would inspire you to move forward.
Block out a few hours this week to get ready. Define your own Lenten practices and use your creativity to shape them in ways that make them special for you.