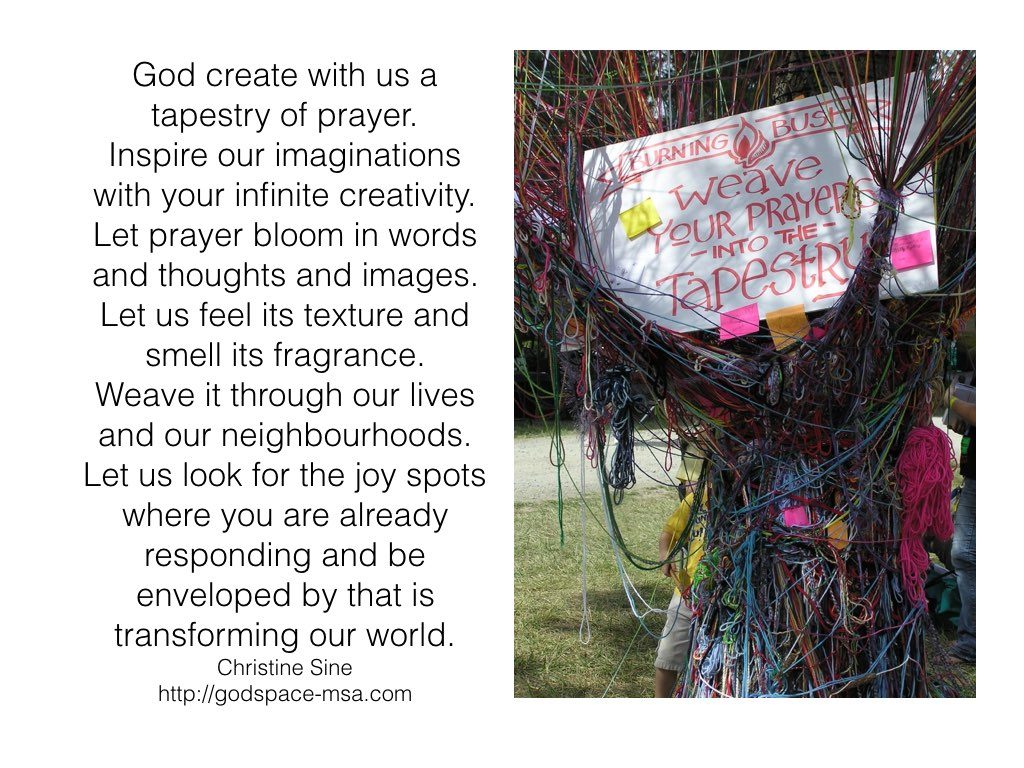 by Christine Sine
I have not always seen myself as a creative person and my prayer life reflects that. I became a Christian in my teens and adopted a rigorous program of prayer and scripture study. I loved it but sometimes felt a little stifled by its restrictions. There are three things that have particularly inspired creativity in my prayers and drawn me closer to God in the process:
Inspired By The Garden
Claude Monet said: I perhaps owe having become a painter to flowers. I think I could say that I owe my prayer life to the garden. It was getting out into the garden that started to change the way I looked at prayer.
It wasn't just that the garden was a great place to pray. Like Monet I found it also stirred my imagination and creativity. Inspiration came from the amazingly creative variety of flowers, plants, bees and other creatures that inhabit my garden. Even the compost pile with its transformative power increased my confidence in God's ability to transform all things.God is so creative I realized and calls me to create as well.
I started to see God in colours, shapes, textures, aromas and sounds. I took photos, arranged flowers, planted gardens. New thoughts, new words and new concepts bubbled up inside me and found myself writing prayers and poems. As I say in my book To Garden With God, I read about the story of God in the Bible, but in the garden I experience it…. and now it has transformed me.
Question: What aspect of God's good creation provides inspiration for you in your prayer life? 
Given Permission Through Liturgy
Tom and I go to an Episcopal church. It is not where I grew up, but about 20 years ago I found myself increasingly drawn to the Sunday liturgy and to the liturgical pattern of the church calendar. The rhythm of the service, the beauty of the prayers, the changing seasonal focus and the rich heritage this connects to have been another source of inspiration for me.
Of course it wasn't long before I found myself wanting to mess with the litanies we used. I started to change them so that they became more personal for me and connected more to the current issues we face in our world. I created symbols, like my Advent prayer gardens, that held more meaning in today's world than the traditional symbols of the seasons, and not surprisingly, started writing down prayers that reflected this.
A couple of years ago our church held an icon workshop. I really wanted to go but couldn't afford it. So I thought, lets make my own painting. And that was how I started painting on rocks. Poor man's icons I call them and like icons my painted rocks are more than a painting for me. They reflect something of my own soul's journey and provide a window that reveals more of God to me.
Question: What aspect of your church life provides inspiration for you as you seek to pray more effectively?
Inspired By the Neighbourhood.
Several years ago when we were in San Francisco, Mark Scandrette took Tom and I on a walk around the neighbourhood. The murals on walls, buildings and even park benches amazed and inspired me. This is a form of prayer I realized. These artists are expressing their pain and suffering, their hopes and joy. Each of these pieces of art is a cry of the heart towards God.
Walking the neighbourhood, getting to know my neighbours, shop keepers, homeless people on the corner are all ways to connect to God's love for this world in which we live. These encounters inspire me to pray not just for my local community but for the entire world.
Question: What aspects of your neighbourhood inspire you to pray more creatively and diligently for God's world?