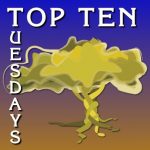 We're going to try something new and see how it works. Top Ten Tuesdays will take our theme for the month and, with your help, create a new list from different perspectives. Our theme for September is "The Prayerful Imagination: Praying creatively for a more meaningful connection with God and others."
We're still thinking about what lists would fit best each week as we explore this theme. The easier ideas are things like, "Top ten websites for creative prayer", or "Top ten books to help us pray more creatively". I'm thinking of creating a list of my top ten creative ways to pray in/through the neighborhood (watch for it!). What would you like to see? We need your ideas both for lists and for content for those lists.
Since this is the end of August I'm going to keep our first top ten list simple: Top Ten Godspace Posts on Listening and Learning.
Here goes!
10. Hearing, Healing, Worshiping by Lynn Domina
9. Looking Into the Face of Jesus by Christine Sine
8. Listening to Jesus' Early Morning Prayer by Lynne Baab
7. Christ Walk with Us by Christine Sine
6. Learning the Rights and Wrongs of Leadership from Jesus by Christine Sine
5. Let Us Go Into the Day with the Love of Christ in Our Hearts by Christine Sine
4. On Listening and Telling by Jeannie Kendall
3. Listening to the Life of Jesus… in a Tree by Andy Wade
2. Identifying Your Great Cloud of Witnesses by Andy Wade
1. Five Must-Learn Lessons from the Life of Jesus by Christine Sine
And a resource list:
Learning from the Life of Jesus – a resource list
There you have it. Now help us plan some lists for Top Ten Tuesdays in September!