Tag, You're It!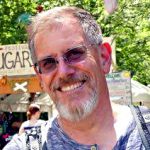 It's August, which means that Christine Sine has officially retired as active Co-Director of Mustard Seed Associates // Godspace and handed the reigns over to Andy Wade. Christine and Andy agree it's been an extremely smooth transition.
What does this mean? We'll be writing more about that in our August newsletter but, in short, it means Christine no longer needs to worry about the day-to-day operations and administration of the organization and can instead focus on writing and workshops. If you're a regular reader of our Godspace Community Blog, or follow any of our pages on Facebook, you likely won't even notice the change.
Godspace Community Blog
Exciting things are happening on the Godspace Community Blog. We've just passed the 50 contributor mark with women and men from over nine countries and a wide variety of traditions contributing their perspectives and insights.
This month on our blog we'll continue our series on listening, with the theme, "Listening to the Life of Jesus". We'll also be featuring two authors and a couple of classic books this month. It should be another insightful and inspiring month.
Would you like to do more than just read the blog? Check below for how you can join our growing community of writers and artists.
Godspace Featured Authors for August
N.T. Wright: Former Bishop of Durham in the Church of England and one of the world's leading Bible scholars, Wright is now serving as the chair of New Testament and Early Christianity at the School of Divinity at the University of St. Andrews. For twenty years, Wright taught New Testament studies at Cambridge, McGill, and Oxford Universities, and he has been featured on ABC News, Dateline, The Colbert Report, and Fresh Air. 
Kenneth Bailey (1930-2016): An author and lecturer in Middle Eastern New Testament studies and an ordained Presbyterian minister, Bailey also served as Canon Theologian of the Diocese of Pittsburgh of the Episcopal Church, USA. He held graduate degrees in Arabic language and literature, and in systematic theology, and his Th.D. was in New Testament. He spent forty years living and teaching New Testament in Egypt, Lebanon, Jerusalem and Cyprus.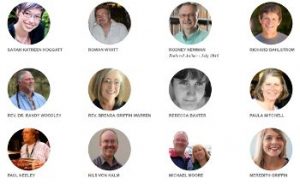 We're always looking to diversify and expand our band of poets, artists, and writers. This is a great time to join with us as the seasons change and we continue exploring the spiritual discipline of listening.
Share your voice and let the world hear your unique perspective. We take blog submissions (600-800 words with a picture), poetry, prayers, liturgies, and artwork. We want this to be your place to explore the intersection of faith, imagination, and sustainability.
Drop us an email and let us know you'd like to find out more.
Top Godspace Posts in July