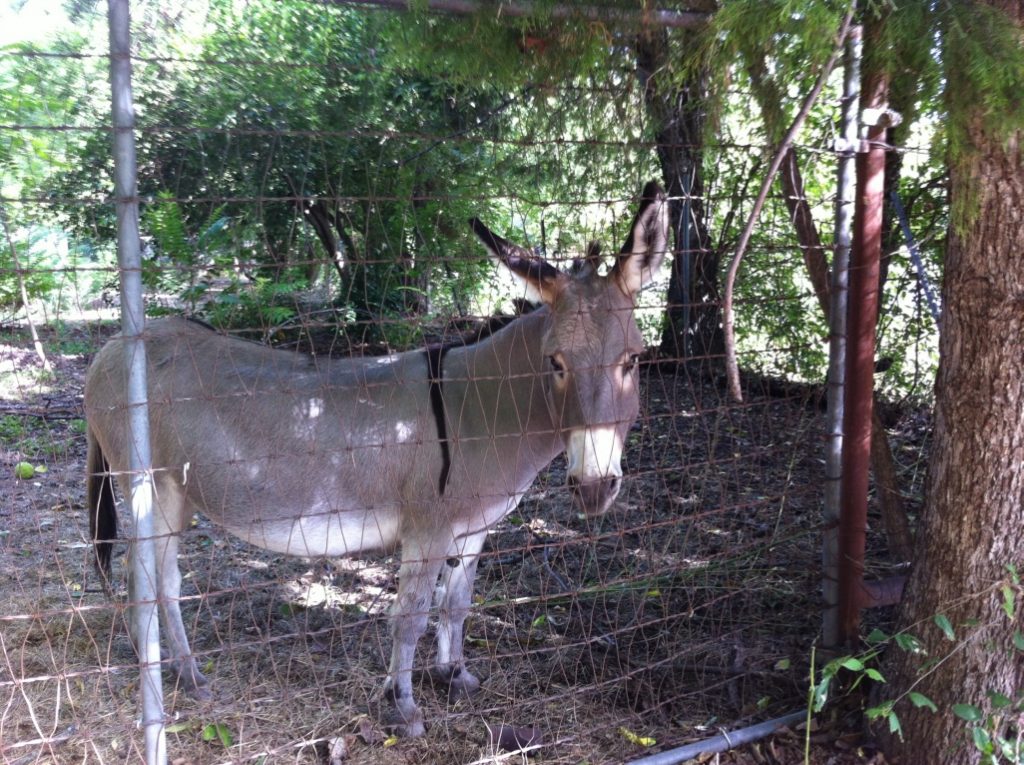 See – you're mind is automatically thinking the worse!  No, I'm not talking about the "human" kind; I'm referring to the most lovable little gray donkey I've ever had the privilege to meet.  Okay, so he's actually the "first" donkey I've ever been around, but honestly had no idea an animal like this would ever pull at my heart like he does.  Of course Georgie (sweetest little fat Dachshund you could ever know) will always be my constant companion; yet our circle does seem to be widening to include this "larger" specimen he's yet to figure out!
We came across him quite by accident actually.  On one of our morning walks around the neighborhood, we passed a tree-lined stretch of fence that was at the back of one of the larger homes in the area.  Who would have expected to see a donkey living in the middle of town??  Guess that's why the surprise was so genuine!
Life can do that to you sometimes though; throwing a curve that can snap you to attention. Very often that jolt is unpleasant ..like a "consequence" for something left undone; feeling a loss or guilt for living a life full of distractions.  I'm just so thankful that this time it was one of those child-like moments when you know you've found a treasure!  It felt like I came across someone I used to know ..someone whom I've missed ..someone who was just as glad to see me as I was to see him!
Now I have to tell you ..I'm not the ONLY one who knows about this donkey.  I found this out when I gleefully posted on Facebook about my discovery and mentioned that I was going to name him Jack.  A couple of my previous co-workers replied that they knew all about him – and that his name was something like Robert or Stephen(?).  Tricksters as they are (and have always been) I smelled a rat and decided to keep calling him Jack.  But then, a good friend (who was actually vacationing in France at the time) saw the post and replied that she, too, knew about this donkey and his owner …and his name!  And his name is Charlie.
Charlie.  That was my father's name.  My father who died just eleven weeks after my 18th birthday.  The man I never really got to know.  I don't think any person knows their parents as "people" until they are adults themselves.  OH GOSH!!  I'm not trying to compare Charlie ..with Charlie!!  But what I am trying to say is that there IS a spirit that wafts through this world that has a story to tell us …if we'll just pay attention. 
I never got to hear my daddy's stories; but let me tell you one of Charlie the "donkey's" stories.  His story is about having patience …as strangers and small chubby dog run up to his fence; about being calm – not over-reacting …when eager hands reach through the wire to scratch his nose and ears; about taking simple strides and slow breaths …when approaching things that are uncertain (what are these strangers up to?);  about staying in the moment and enjoying the simplicity of life …like licking the hands of new friends, and nibbling the gift of a carrot or sugar cube.
Might this be daddy's story too – the one he never got to tell me?  To meet life with a sense of patience and calm.  Don't over-react when new things come your way; approach each opportunity with slow, steady steps.  Take a deep breath in dealing with the people and circumstances as they show up; appreciate them for what they are right now – messengers and teachers.  Don't try to rush into the future, because it doesn't exist yet.  Stay in the moment.  Enjoy each precious encounter as it saunters and brays up to the boundaries of your life.  This simplicity will be your joy. 
Yes, I think that's exactly what daddy would have said.  Perhaps I wasn't ready to hear it until now.   And to think …I saw all this in the soft charcoal eyes of a little gray donkey named Charlie.