by Christine Valters Paintner
In Ireland, Brigid is one of the three patron Saints of the land alongside Patrick and Columba. We don't know many details of her life, and there is great evidence that she is part of a much older lineage extending back to the Irish triple goddess Brigid of pre-Christian times who was the goddess of poets, smithwork, and healing.
Most of what we know about St. Brigid comes from the Life of Brigid written by the monk Cogitosis in the second half of the 7th century. The Life emphasizes her healing, her kinship with animals, her profound sense of hospitality and generosity, and concern for those oppressed.
On the eve of January 31st , which is the night before her feast day, it is traditional to leave a piece of cloth or ribbon outside the house. It was believed that St Brigid's spirit traveled across the land and left her curative powers in the brat Bride (Brigid's Mantle or cloth). It was then used throughout the year as a healing from sickness and protection from harm.
Brigid was a powerful leader and one of the founders of monasticism in Ireland. She was an abbess, healer, soul friend, prophet, and more. Many miracles are connected to her, especially related to milk. She had a white cow who could give as much milk as needed. A small amount of her butter miraculously feeds many guests. There is a sense of lavish hospitality and generosity connected to the spirit of Brigid. Many of the stories connected to her, reflect the dignity of the ordinary tasks, especially in the home. No more divisions between what is worthy of grace and beyond the scope.
Often in Ireland, I have heard Brigid described as a bridge between the pre-Christian and Christian traditions, between the other world and this one. The Healer is the one who bridges gaps and divisions. She can help bring healing to a world divided between religious beliefs. She bridges the natural and human world. Brigid sees the face of Christ in all persons and creatures, and overcomes the division between rich and poor. One of her symbols is her cloak which becomes a symbol of unity. All can dwell under her mantle.
Archetype of the Healer
The Healer is the one who helps us to overcome inner divisions of body, mind, soul, heart, and spirit. Healing is very different than curing. We might have an illness which does not alleviate, but the Healer within allows us to find some wisdom and grace in the experience, allows us to have some peace and ease in the midst of unknowing and pain.
Similarly, with emotional wounds, the Healer is the one who helps us to welcome in the stranger and find reconciliation and perhaps even gratitude for these parts of self that have for so long vexed us.
Healing is not so much about "doing" but about a way of "being" that lies beyond all the false divisions we make in our lives. Healing often inspires radical life changes, and brings about ways of being more in alignment with our True Self and nature.
The Healer is not only present in the traditional practice of medicine, or other healing arts such as herbalism, massage, energy work, midwifery, and so forth. The Healer also works through spiritual direction, retreat work, psychotherapy, and any ways that a person accesses this archetypal aspect of self to foster an overcoming of divisions.
We each carry the great wounds of life, but some of us will become victimized by them and let them ultimately tear us apart. While some of us will slowly find empowerment and a call to be in service to others. We may resist our wounds, but the ancient stories tell us the wound is where the jewels are hidden. Wounding can become a process of initiation into a way of being which honors the wounds of human life and approaches with reverence and gentleness, creates spaces where the wounds are made welcome.
Brigid reminds us that ultimately we must turn within, and find the inner Healer at work, call upon her or his wisdom for us. It can be confusing when we are ill and there are so many possible modalities for healing. When we pause and turn to the Healer we have inside of us, we can ask for the way forward. This doesn't mean that we don't seek the healing gifts of others, but that we don't give away our power to heal in that relationship.
Excerpted and adapted from Illuminating the Way: Embracing the Wisdom of Monks and Mystics (Ave Maria Press) by Christine Valters Paintner.
---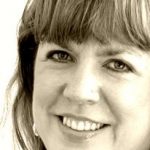 Christine Valters Paintner, PhD, REACE is the founder and online Abbess of AbbeyoftheArts.com, a global monastery offering resources for contemplative practice and creative expression. She is the author of nine books on spirituality and the arts, including her most recent Illuminating the Way: Embracing the Wisdom of Monks and Mystics. Christine and her husband John live on the wild edges of western Ireland where they lead slow, soulful pilgrimage experiences.