Celtic Prayer Retreat – "CPR"
Are you in need of a little Celtic Prayer Resuscitation?
The countdown to our expanded 25th annual Celtic Prayer Retreat has started. Three weeks from today – in just 21 days – we'll gather on beautiful Camano Island, WA to camp, worship, celebrate, share stories, and more!

Tomorrow, Saturday, July 16th, is the final day for early bird registration and special pricing. 
New this year: We'll be blazing a new prayer trail that meanders through the woods, circling our meeting areas and featuring more experiential prayer stations along the way. "Wandering with the Celtic Saints" will be the focus of another new prayer trail that invites us into the lives of various leaders within the Celtic Christian movement. Musician Jeff Johnson will be joining us again for our Saturday celebration, as will Pat Loughery, adjunct professor at The Seattle School of Theology and Psychology, who will lead a mini-workshop introducing Celtic spirituality.
Wild about Wild Goose Festival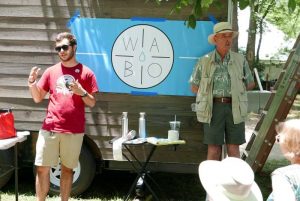 Christine, Tom and Andy had a wonderful time at this year's Wild Goose Festival in Hot Springs, North Carolina. Tom and Jensen Roll, a young entrepreneur, held two workshops at Jensen's tiny house, which he pulled 300 plus miles to participate at Wild Goose. Besides developing a vision for an affordable tiny house community, Jensen is currently the Executive Director for H.O.P.E., Helping Other People Eat, which is a nonprofit he started 3 years ago.
Both workshops promoted millennial innovators, like Jensen, and Tom's new book Live Like You Give a Damn! Join the Changemaking Celebration. Be sure to check out Tom's blog, New Changemakers.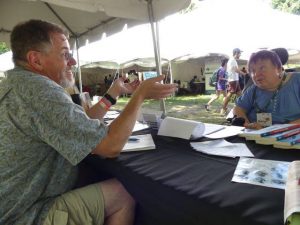 Christine led a workshop on creative spiritual practices and how to break out of stale routines that often limit our imagination and ability to hear God in the everyday of life. Meanwhile, I met many creative souls at the MSA book table, reconnected with many old friends and made several new ones.
Godspace Community Blog
Have you noticed we're now referring to the Godspace blog as the "Godspace Community Blog"? We've passed the 50-writers mark, with contributors coming from seven different countries… and counting. Our goal is to make this a truly community blog, one that you help shape and one that helps to form connections between our writers, artists, and readers. We're always looking for more writers, poets, and other artists to feature. Please contact us if you're interested in joining this diverse group of Christ-followers.
We're now half-way through our July blog theme, "Listening with the Celtic Saints". We've had some great contributions along the way including:
Our theme in August is "Listening to/through the Life of Jesus", and in September we'll tackle "Adventures in Prayer". Please join us in exploring all these themes through writing, photography, painting, poetry, song, or whatever your creative expression is that we can share through our website. Contact us and let us know how you'd like to participate, or just to find out more.
Each month we plan to publish a resource list connected to that month's theme. You can find this month's Celtic Resource List HERE.
These lists couldn't happen without your suggestions. While we can't always fit every suggested resource onto the list, we rely on your ideas, suggestions, and recommendations to make these resources as complete and diverse as possible. Share your ideas of must-haves for our upcoming themes:
Listening to/through the Life of Jesus
Adventures in Prayer
An Appeal
Transitions cost money. There's no easy way around it and no pretty way to say it. At MSA//Godspace we work hard to make sure every dollar is well spent and not wasted, but the truth of the matter is that your support is critical to the ongoing ministry of this unique community. So let me keep this short and to the point: Please take a moment now to send in your financial contribution to continue to make this work possible. You can GIVE ONLINE or mail a check to Mustard Seed Associates, PO Box 45867, Seattle, WA 98145.

If your employer contributes matching donations, MSA might be included in their list of eligible organizations. Please check with your human resources department to find out if we qualify. MSA is silver-rated through Guide Star and also participates in Benevity's Causes Portal which makes employer-matched donations easy.
If you shop through Amazon you can also choose us as your supported non-profit. Amazon donates a small portion of each purchase to us – a win-win! Click HERE to find out more.
Have more questions about giving to MSA/Godspace? Please check out our online donation FAQ.
Supporting Prayer
Please continue to hold us in prayer through our transitions at MSA/Godspace. On August first Christine will officially step down as Director of Mustard Seed Associates and I will step into her role. Thus far the transition has been smooth, and we look forward to a continued gentle ride into the future. Specifically, please pray:
For Christine and Tom as they shift their roles within the organization. We are so glad they will continue to participate, and we pray these changes will free them up for even greater things.
For our new board, which is directing this transition and helping us to reimagine MSA/Godspace and the Center for Imagination and Creativity.
For me, as I take on administrative tasks while increasing my writing and speaking opportunities.
For discernment as to how I might most effectively hand off web design, maintenance, and other ongoing Internet-related forms of communication.
Thank you for joining together with us in cultivating imagination, creating spaces to learn and grow, and discovering new ways to collaborate for a more faith-filled and vibrant future.
Shalom,
Andy Wade
Co-Director
Mustard Seed Associates // Godspace