July's Featured Author: Rodney Newman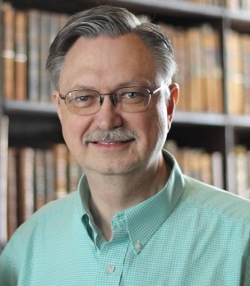 With our 25th Annual Celtic Prayer Retreat, "Celebrating the Goodness of God with All the Saints", fast approaching, it's fitting that we feature Rodney in our month-long focus, "Listening to the Celtic Saints" over on our Godspace Community Blog.
Featured Author Rodney Newman is a United Methodist pastor and higher education chaplain. He teaches undergraduate courses in Celtic Christianity and leads study abroad trips to Ireland.
In 2015, Abingdon Press published Rodney's book, Journeys with Celtic Christians, along with a leader's guide for use with small groups.
Rodney and his wife, Ann, live in Oklahoma City. They along with their son, a university student, and daughter in high school, are active in working for social justice and building interfaith relationships.
Celtic Prayer Retreat Early Bird Special Ends July 15th!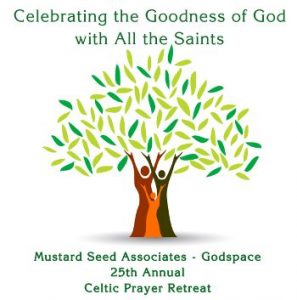 The super early bird special has flown the coup and the early bird special will soon fly away too! Don't miss these special discounts.
This is our 25th year joining with you at our annual Celtic Prayer Retreat. We're excited to welcome back musician Jeff Johnson, who will lead our worship on Saturday.
To help celebrate, we've added a Friday evening program, Introduction to Celtic Spirituality with Pat Loughery, followed by a music jam, as well as three Saturday afternoon workshop options. We also are updating our prayer trails and will have a full morning of worship before departing on Sunday.
Find out more HERE, or go directly to tickets.
Wild Goose Festival – July 7-10

Tom Sine has invited Jensen Roll to share how he and other young changemakers are creating new forms of social enterprise to create more just communities. Tom will invite you to imagine new ways that you, your friends and community can participate in this new changemaking celebration.
Look for Christine Sine at her worshop, "Messing with Spiritual Traditions."
And come find Andy Wade over in the publishers village where we'll have MSA resources available.
Join the Expanding Community on Our Godspace Community Blog!
We're always looking to diversify and expand our band of poets, artists, and writers. This is a great time to join with us as the seasons change and we continue exploring the spiritual discipline of listening. We're almost to 50 contributors from around the globe. All we're missing is you!
Share your voice and let the world hear your unique perspective. We take blog submissions (600-800 words with a picture), poetry, prayers, liturgies, and artwork. We want this to be your place to explore the intersection of faith, imagination, and sustainability.
Drop us an email and let us know you'd like to find out more.