This month I am reading Keith Anderson's book 'A Spirituality of Listening: living what we hear' and I am reminded that the world is simultaneously much bigger and much smaller than I realise. In the midst of a dense period of brain fog, migraine and depression, it has been good to be challenged to keep looking up from bed to hear the wild wind rustle of God's Grandeur out of the window and to be confirmed that the path I have chosen, to see God in the tiniest details of my small life, is indeed a fruitful way forward. The gold thread twisting through Anderson's book is that 'God speaks in ordinary things often silenced because we forget to listen' (60) and that 'our work done in the most ordinary ways becomes extraordinary if we remember one thing: the most ordinary things are transformed by the possibility of God's presence' (61). His conviction is that 'wisdom still cries out if we can learn how and where to listen' (24).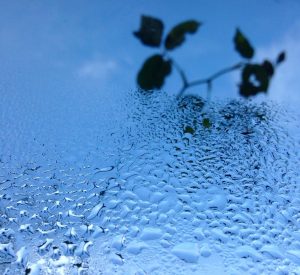 Nearly four years ago I started writing about the intersection between contemplative spirituality and photography on a blog called shot at ten paces. The name emerged out of a conversation with the poet Gillian Wallace about my frustrations with my photography. I characterized my seeming inability to learn and retain the most basic technical knowledge, which would develop my photography skills to commercial levels, as an inability to 'see the big picture'. All I did was take photographs of was what was in front of me at home, or of what I could see from my wheelchair, my front doorstep, or out of a car window. My photos reflected my mental and emotional state – I needed to find my God in my here and my now, because God felt a long way distant.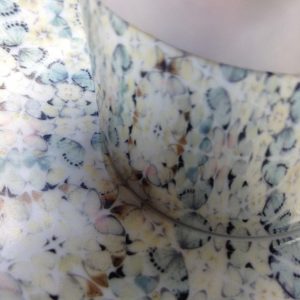 But the presence of rain drops held inside a net of lobelia on the edge of a hanging basket, or the colour of a pot on a windowsill, or the weeds thrusting up through the concrete path, all began to catch at my notice and I explored them in countless close ups with camera in hand. Yet it was only during this conversation with Gillian that I discerned that this way of seeing really was what I was interested in. Far from it being a limited way of seeing imposed by physical and mental illness, it was a freeing gift that I was naturally attracted to. I had been given the opportunity to see what others often overlooked, and by being open to receive images through a camera, I had the opportunity to become a co-creator with God.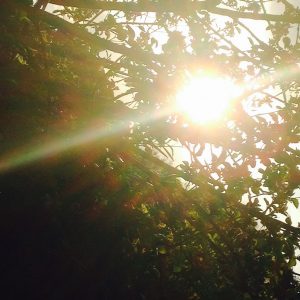 Since that conversation I have become passionate about communicating, like Anderson, that 'there is an invitation to an orientation of one's life to a universe that is alive with presence and voice, always with "more that can be told"' 14). So with camera in hand, (a DSLR when I am well enough to hold it, an iPhone on a more daily basis) I explore my faith conviction that God is in the small things, God is in the details. And so, to use Lucy Ellman Clark's phrase I am on a 'Pilgrimage of the Quotidian'. God asks me to pay attention, to be present to God's presence, which will always be right in front of me, if I have the eyes to see and the ears to hear.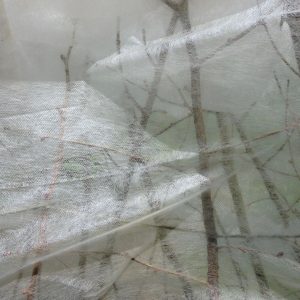 As Keith Anderson affirms, such exploration requires a 'posture of expectancy' (39). I need to get curious about what God is doing, what God is saying, where God is living in whatever this day brings. My approach needs to be one of wonder, although as soon as I write that word I am reminded how far short I fall of living with such imaginative openness in most moments of my life. Yet I know that we are all beginners in this way of listening. I can begin again an intentional practice to have a conversation with God which begins with my receptivity, not my words; and rest safe in the knowledge God's presence can pierce the blanked blockedness of an exhausted mind.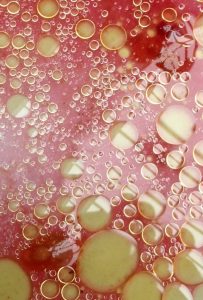 It seems no coincidence that as I read Keith Anderson's encouragement to cultivate ways of listening for God's presence in the ordinary tasks that face me this day, I stumbled over this:
Wisdom is
so kind and wise
that wherever you may look
you can learn something
about God.
Why
would not
the omnipresent
teach that
way?
St Catherine of Siena/ Daniel Ladinsky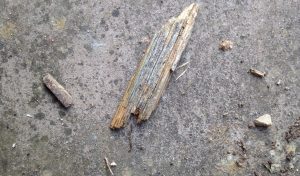 Kate Kennington Steer is a writer and photographer with a deep abiding passion for contemplative photography and spirituality.  She writes about these things on her Shot at Ten Paces blog.  She has recently begun an offshoot project, posting a daily iPhone image as a 'act of daily seeing' on Facebook. Join in with gentle ambling conversations about contemplative photography by visiting  Act of Daily Seeing.
All the above images are iPhone images.