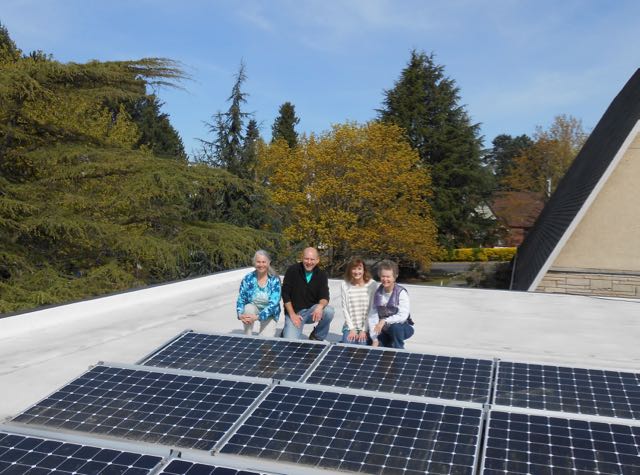 By Jennifer Astion
Seattle Church Wins National Prize for Solar Panels
St. Andrew's Episcopal Church Recognized for Reducing its Carbon Footprint
Earth Day came early this year for St. Andrew's Episcopal Church, which received a $1,000 cash prize for being a Renewable Role Model in a national contest titled the "Cool Congregations Challenge." St. Andrew's was singled out for its successful use of solar panels to reduce its carbon footprint. The contest was sponsored by the nonprofit Interfaith Power & Light (IPL) and judged by a panel of experts from IPL, EPA's Energy Star, and the U.S. Green Building Council.
St. Andrew's installed solar panels in April 2015. In the year since the panels went online, the church has saved $1400 or 29% of its electric bill. The church also reduces its carbon footprint by purchasing credits through the Diocese of Olympia's partnership with the Episcopal Diocese of the Southern Philippines.
Recognition by the Bishop of Olympia
The environmentally conscious efforts of the church have been recognized by The Rt. Rev. Gregory H. Rickel, Bishop of Olympia, who said, "I have been so inspired by the deep commitment by St. Andrew's not only to relate the Gospel to the care for creation, but even more to make their actions match that belief.  Solar is only part of their intentional practice of creation care. I am so grateful for their leadership in the care of God's creation."
Eight Years of Reducing Energy Use
St. Andrew's has steadily increased its energy efficiency over the last eight years. In 2008, the church replaced its boiler, thermostats and windows to improve energy efficiency. This led to measurable results. "Using the EPA's Portfolio Manager for Houses of Worship, we know St. Andrew's has reduced its annual carbon emissions by over seven tons of carbon a year, from 63 tons to 56 tons, an 11% reduction from our baseline," explains parishioner J.B. Hoover.
"We appreciate the recognition by Interfaith Power & Light, and the efforts of our parishioners to reduce our carbon footprint," said The Rev. Connie Carlson, Interim Rector at St. Andrew's.
Funding for Solar Panels
The solar panels were funded by donations from parishioners. St. Andrew's also receives production incentives from Seattle City Light. In addition, the church was awarded a $500 grant from the Bishop's Committee for the Environment of the Diocese of Olympia. This committee helps parishes make improvements that align with the 2009 Genesis Covenant, which is a national commitment by the Episcopal Church to reduce its carbon footprint for every facility it maintains by a minimum of 50% within ten years.
Earth Day Events at St. Andrew's
St. Andrew's observed Earth Day by screening the environmental documentary This Changes Everything: Capitalism vs. the Climate on April 22. The church also hosted a talk on Global Climate Issues & Action by Earth Ministry Program Director Jessie Dye on April 24. Seattle City Council Member Mike O'Brien will give a presentation titled Local Climate Action on May 9 at 7 pm. All events are open to the public. More information is available on the St Andrews church web site.
St. Andrew's, founded in 1906 near Green Lake, is an active and welcoming Episcopal parish of more than 320 households that offers Sunday School, Junior and Senior High Youth Groups, and adult education classes ranging from yoga to Bible Study.
—————————————————————————————————
Jennifer Astion is a Communications Specialist at St. Andrew's Episcopal Church and lives in Seattle.