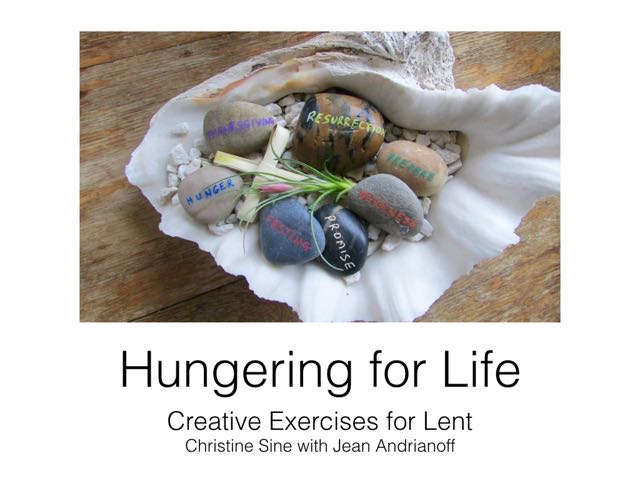 by Christine Sine
Lent is only a week away and we invite you to join us on a journey of creativity and transformation this year. Think a little outside the box as you get ready for Easter. Its time to prepare, not for the cross but the kingdom, not for death but for life. It time to get ready to be God's resurrection people of love and compassion in our needy world.  
Each week throughout Lent, beginning with Ash Wednesday, February 10th, we will provide a focus word, a scripture verse and questions to reflect on. Each Wednesday our focus will shift to a new word. Because I always want to end with the kingdom rather than the cross, I have added the theme of resurrection/life to see us through the last days of Holy Week and into Easter.
The words are chosen to enable us to grapple with the central theme of this booklet which you can download for free here. This will also be the theme here on Godspace, with daily reflections, prayers and ideas being posted.
Are you getting ready for life or for death?
As you get ready to walk through Lent and look forward to the celebration of Easter's resurrection life this year, what gnaws with hunger pangs at your soul, and what do you plan to do about it? Are you hungering after God's call for transformation within yourself? Is it your passion for justice and healing that eats at your heart? Is it your desire for the restoration of polluted areas of our earth? Or is it something else that comes to mind?
We hope that you will join us on this journey. Download the free guide, prepare to be inspired and see what God stirs in your heart. Share your responses either as comments on the blog. It should be an exciting journey.
Check Out Our Updated Lenten Resource Lists
Here is the complete list of resource posts for Lent and Easter posted on Godspace. enjoy!
Daily Scripture Readings for Lent 
Lenten Prayers – Dietrich Bonhoeffer, Mother Teresa and More
Resources for Holy Week
Resources for Celebrating Holy Week With Kids:
Resources for Maundy Thursday:
A series on Lent and creativity:
Our new free download: What Do You Hunger For: Creative Exercises for Lent 
Get Creative and Play Games for Lent;
Five Ways to Foster Creativity in Kids During Lent
Seven Tips for Creating Sacred Space For Lent
Let's Get Creative – Doodle Your Way Through the Lenten Calendar
Godspace resources:
As well as the resource lists above, Godspace has a rich array of resources available for Lent – some new, some old, some free, some for sale.
Hungering for Life: Creative Exercises for Lent
40+ Ideas for Lent – a free downloadable activity sheet for Lent
 A Journey Into Wholeness: Soul Travel from Lent to Easter. 
Lord Lead Us To Repentance – A Lenten meditation video produced in 2012
Were You There When They Crucified My Lord?  This meditation is designed for Good Friday and does not have music.
Is This the Fast?  – A Lenten meditation produced in 2008