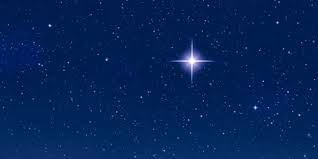 My morning prayer takes place in our garden room which looks out over our garden through a wall of glass held by large oak beams.  During Advent my usual chair had been moved to face the glass/garden to accommodate a large Christmas tree.  On the first morning of Advent I sat down as usual with a cup of tea, my daily missal and a new Richard Rohr book for Advent.  I looked out into the pitch black early morning and saw hanging in the sky above the Annexe at the bottom of our garden a huge star.  No ordinary star but one of seven points that looked exactly like those in a children's story book.  I was dazzled.  As I looked in awe, I saw with my own eye the star explode and scatter in every direction what appeared like silver dust and then reform to it's magnificent original shape.  No telescope or binoculars needed to witness this extraordinary event which repeated several times, one after another.  I reached for my phone to try and record this moment of fabulousness in a photo.  The picture was abysmal and I quickly realised that this beautiful piece of stellar activity could only be stored in my own memory.  My heart repeated over and over 'awesome God, praise you God' and my prayer that morning focused almost entirely on the wonder and mystery of the God I worship.  A particular line of scripture resounded in my mind
'…and then He made the stars.'  An almost throw away line in the Creation account of Genesis which captures my imagination to envision a God who filled the night sky with these heavenly lanterns.  I can only think WOW.

Each new morning of Advent saw the star waiting for me in an inky pre-dawn sky and I was totally fascinated by it and curious as to God's purpose in allowing me this momentous experience.  I read in Richard Rohr about a Cosmic Christ and I felt a special communion between God, myself and another servant of Christ all knitted together by the heavens and in particular, a star.  I also found myself looking at the three kings with new understanding and how absolutely compelling their star must have been.  Not unlike the one I shared my prayer time with right now, it rendered me silent without need of words to commune with God, simply eyes raised up and a heart swelling at the sight of it.
I woke later on Christmas morning with my family and of course daylight had hidden the star from view.  I opened a gift from a girlfriend and inside the wrapping a star shaped box with the words 'The Star' printed in gold.  It contained a small bottle of oil with the words 'inner strength' written across the label.  Once again I felt God at work – moving people, things and experiences into my path with a divine purpose that I neither understood nor needed to understand.  The mystery of it all was enough.  Threads, connections, union across countryside, continents and cosmos.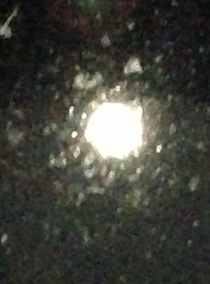 On 12th January my son was preparing to leave for a posting to Bahrain with the Navy as a diver.    He would be away for 6 months and had to leave in the early hours to be at Brize Norton by 4am.  He assured me I didn't need to get up to see him off.  I, on the other hand, felt it to be essential to put my arms around him and plant a kiss on his cheek before he left for distant shores.  As I marched down the garden in pyjamas and slippers to the Annexe to hug my boy, I happened to look up and found myself standing beneath a velvet sky so heavy and glittering with stars, it took my breath away. They hung so low above me I felt I could reach out and touch them.  I felt once again God's full presence in that instant.  We made our good-byes under that sky and afterwards I stood alone, appreciating personally Mrs Morel's experience in Sons and Lovers, a paragraph I have always adored for it's passionate lyrical description.  More connections asserting themselves, between past and present, literary genius and physical experience, memory and real life, mother and son, me, God and the universe.  All intertwined, interconnected but completely separate.  It felt as though I was present in the whole of eternity from beginning to end.  God offered a moment in a 'thin place' where the whole of everything existed in a single flicker of time.
Our priest has spoken of the guiding star on the celebration of the Epiphany at Mass and I listened intently to his words about the 3 kings representing the whole of God's gentile children – Jesus for all mankind, just as the shepherds symbolised His chosen people, Israel.  I have learned that a hectogram, a seven pointed star has been used in Christianity to represent the 7 days of Creation and is the symbol of perfection for God in many Christian religions.  Recently the media has been filled with the news of David Bowie's death, the lyrics of Starman have played themselves out to me: 'There's a star man waiting in the sky, he'd like to come and meet us but he thinks he'd blow our minds…….'  Stars, stars and more stars……
Are we ready to meet with the creator of the stars, of the universe?  Am I ready?  This part of my journey in faith is not over, we are only half way through January and right at the start of the church year, but already I feel completely overwhelmed by the breadth and intensity of a God imprinting Himself upon me as I am soft wax to His creative hand.  Lift up your eyes to the night sky and breath in the heavens of a holy God.  Look, wait, listen for your own connections and don't be surprised if they are written in the stars.  If there is any God purpose in all of this at all then I believe it is that we are all connected intrinsically and intimately through all eternity.  We are part of His story.