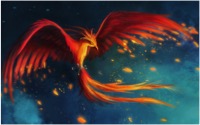 Thinking about a word to embrace this year, I felt the word Phoenix come to me.
This is from what was spoken over my life some time ago, that there would come a time when like a Phoenix, I too would rise from the ashes. This speaks to me of receiving Christ's resurrection and embodying it, by surrendering all that has passed away and looking with anticipation for all that is coming.
But I couldn't seem to stop there with one word. And then I got the words surrender, and softening and felt I needed to combine these words with Phoenix to give a fuller meaning to where I feel I am headed. Maybe all of this could be experienced in the Phoenix after all? Surrendering the past, I rise from the ashes in resurrection by the softening power of the Holy Spirit!
Together with this contemplation about my word for the year, I was thinking about what I would like to see unfold in 2016 and part of that was a feeling of creativity coming back to me – the flashing image of water colour painting, something I have not done in years! And Collage Journaling, something I have done on and off over the years and find myself drawn towards again. I was particularly inspired by some beautiful collages I viewed online last year at the Holy Disorder of Dancing Monks, a group of the Abbey of the Arts.
So I would like to share with you some of my experiences with Collage Journaling in the lay-out of how such a special time with God could look, both for the creative and for the artistically challenged, for those who desire the expression of colour in prayer and for those who would like to receive from God in a different way. Being open to fresh ways of experiencing God can dislodge the blocks we sometimes experience in our prayer lives when things feel stale and distant with God. So it's time to try something new!
Why not give Collage Journaling a go?
Firstly, select the magazines you like. Some of my magazines of choice include gardening, travel, interior decor, antiques, country living, even some Beautiful British Columbia magazines my Mom gave me! Anything that appeals to you. You don't have to buy these new, as you can often get them from second hand book sales in your public library or from your local 2nd hand bookstore. Maybe a friend of yours is getting rid of a pile of old mags?
Then you will need: scissors, glue and your journal or paper/cardboard of choice
Next: music to inspire this time of creative prayer. And because I am doing homeschool together with all three of my girls this year, we will explore this time of prayer together. I found this wonderfully inspiring article for those of you with children or grandchildren, or who participate in children's work as to how to make a prayer journal with children.
Some of the contemplative or soaking music I really like that can accompany these times are artists like Julie True, Alberto and Kimberly Riviera, Grace Williams, Ruth Fazal, Laura Woodley, Laura Rhinehart – in fact you can find a lot of soaking music on www.soaking.net – instrumental or with lyrics. Another place to find soaking music is at www.triune-echo.com, the website of friends of ours Natie & Yvette Rautenbach.
Then the part I really enjoy is paging through the magazines until you feel drawn to a picture or word. Just go where you feel led. You don't have to analyse this process too much and that is what I love about it. If your heart is led to a picture, cut it out and set it aside. If you feel led to a phrase or word, do the same. Keep going until you feel you have enough material for your collage.
This entire creative process is prayer in itself. What a blessing to know we do not have to only engage our verbal communication skills when we commune with God. And Collage Journaling does this, it gets us out of our mind and into our heart, our Spirit-led selves, where we are being loved on and led without even knowing exactly what or how at the time.
Then comes more fun! It's time to place your pictures on your page in the way you really like! I do this until I find a pleasing composition. Then comes time for the glue. And so it comes together! You can be innovative with Collage Journaling. You may like to combine different media – paint, pencil crayons, pencil sketches, home-made papers, stickers, scrapbooking arts and craft supplies, the list goes on… Here are some of my prayer collages:
Afterwards, in a time of silence you may like to take your completed collage and ask the Holy Spirit to speak to you through it. This becomes a time of dialogue with God as you share your hearts together. It is a richly textured and layered time of sharing. I find Collage Journaling gives me insight into where I'm at, hope for the future and discernment about where God is leading me, as well as furthering the Spirit's healing and restoration work in my life.
Some links which you may find useful:
How to Collage in Your Art Journal
Collage as Prayer: Cutting and Pasting My Way to God
Here is a song by Grace Williams "Spirit Come" to accompany your time of Collage Journaling! May the Holy Spirit fill us this year 2016 as we step into the beautiful purposes of God and open ourselves to new ways of experiencing our relationship with God in prayer: