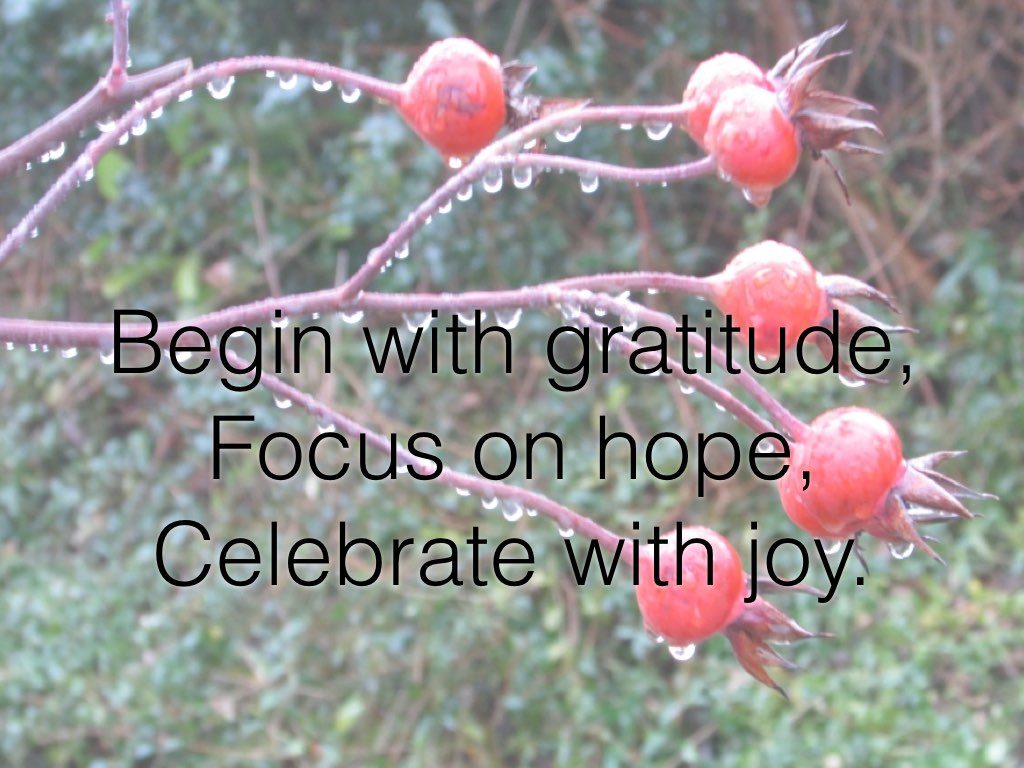 Its only a couple of days until the end of the year and like many of us I am reflecting on the year that has passed and thinking about what I want to accomplish in the coming year.
This year I am not setting new year's goals or working on a set of resolutions. Such things are made only to be broken. Instead I am hoping to establish a few new habits that I hope will stick with me throughout the year. I thought you might like to join me.
Begin with gratitude. Part of my Sabbath discipline for many years has been asking myself "what are you grateful for". However I have realized that there is a big difference between looking back with gratefulness and entering the day with an attitude of gratitude. Recognizing that each new day is a unique gift from God is something that should have us giving thanks continually. Deliberately looking with gratitude at each moment and learning to savour everything from the rain shrouded dawn of a winter's day to the laughter of a friend as a gift from God, can be life transforming.
Focus on hope. We journey towards a hope filled future, a future in which all things will be transformed by our loving God into wholeness and newness.  Yet we rarely express that. For me, it is easier to live in the presence of negativity, to see the clouds and not the sun. To live as children of hope and faith is an intentional decision that we can make each day.
Celebrate with joy. We need to live with less goals and more celebration. Goals restrict us. They can make us feel that success and fulfillment are always a little beyond our grasp. They often set us up for failure. A friend on mine told me years ago that she always begins her prayer time by looking for the "joy spots", asking herself where is God already at work and how can I join in? Intentionally looking for the hope giving, joy filled activity of God that is already present in every moment and every event, is inspiring and changes our whole attitude towards life.
So what are the new habits you hope to incorporate into your life journey in 2016?