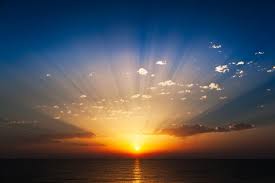 by James Prescott
I've always struggled with seasonal affective disorder. I need to get up at 6am for work each weekday morning – and it's noticeable that in the summer months, when it's light outside, it's pretty easy to get myself going. In winter, however, the nights are longer, and it's still dark outside when I wake – and I find it tougher to get up.
There's actually science behind this. The sun gives off something called seratonin, which increases our energy levels, and which our body needs, and can even impact our mood. So in summer we get more of that in the morning (and during the day generally), so it's a lot easier to get up early, and we're less tired, and our mood is brighter.
Recently, I've been struggling with low moods, anxiety, and have had conflicts in my one to one relationship with God. Hurt going back decades has been more exposed, God making it very clear He wanted to deal with this.
One area of my life which was bringing anxiety was work. I was struggling with a relationship with an individual at work and there was a lot of tension. I was at home group sharing this with people, and God gave me a revelation. I realised, when I get up to go to work, it's dark. When I get to the underground rail station it's dark. And on the London Underground, it's dark.
But when I arrive at the station near my work, and walk up the stairs to the outside world, suddenly, light has dawned. I've literally gone from darkness, to light.
And I had a revelation. That no matter how dark the night gets, how long the darkness lasts, that eventually morning always comes. Dawn always breaks. Light always comes back eventually. The dawn begins whilst it's still dark. There's a moment when light begins to slowly permeate through, more and more, until it takes over. Darkness never, ever, lasts forever.
In response to this, in conjunction with my home group leader, I made a decision. I decided that I would be light to those around me. That instead of choosing fear and anger, and to let darkness literally overwhelm me, I would be an agent of the good, of the light.
I have to say, it changed everything. I repeated it to myself every day to begin with. And eventually it sunk into my subconscious. I was less anxious, less moody, less down. It even helped me get up in the morning.
I began to see so much more clearly the metaphor of darkness and light, in my life, and in the world around me. And for some strange reason, I began to feel a sense of hope in the midst of the darkness this world is in right now.
Which brings me to Christmas.
Because Christmas is about light in the darkness. In the midst of a dark night, a baby is born to bring hope to the world. In the darkness of the night, wise men see a light leading them toward the hope of the world. Shepherds up at night, are lit the way towards this saviour.
In every way, Jesus is a light in the darkness.
The physical, I believe, reflects what's going on in the supernatural. And the fact that the light always comes in the morning, no matter how dark the night, is a symbol, a sign. It's a promise of God made through creation that no matter how dark things get, there will always be a dawn.
There will always be light.
There will always be hope.
Jesus, is the human representation of that hope. That in a world overwhelmed by fear and darkness, where love, peace and hope seem so distant – there is still, somehow, hope in the midst of it.
That the sun will rise. There will be a new day. Things will get better.
Our job is to trust, to keep faith in the darkness. To be love to the world around us. Indeed, to try and be light in the darkness around us. God has called us all to represent Him to the world, to keep the faith, to keep loving, to keep hoping and acting for a better world.
This Christmas, let us be reminded to never give up hope. And let us be representative of that light to the world.