Andy Wade – A reflection on day one of our Advent Photo Challenge
Advent has begun. As I listened to our pastor introduce our church's theme for Advent, "A Light Has Dawned", and heard about our ever-shortening days, I thought about our friends in the southern hemisphere experiencing a lengthening of days leading up to Christmas. The photo-challenge for this first day of advent, "seed", seems so much easier to wrap my head around in the spring and summer than in the cold of winter.
I wandered into my garden in search of ideas, only to see death and decay everywhere. What seeds of hope and light could I possibly find here? In spring and summer the seeds would be bountiful, almost like "sand on the seashore", but now…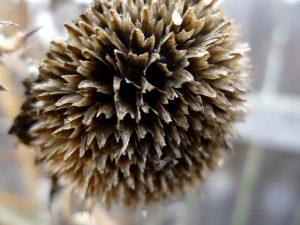 Sunflowers, now dried empty tombs where seeds of life once lodged, once gave life to hungry birds suspended upside-down plucking seeds, storing energy for the coming onslaught of bitter cold. But now…
Zig-zagging through garden paths, searching for that seed, racing the faltering light, I began thinking about the promise. All this death in the garden, yet all it takes is one seed to bring forth life.
Christ arrives right on time to make this happen. He didn't, and doesn't, wait for us to get ready. He presented himself for this sacrificial death when we were far too weak and rebellious to do anything to get ourselves ready.  (Rom. 5:6 MSG)
My garden languishes in the failing light, struggling to outlast the darkness and cold. The soil is in no way ready for seed. And if, perchance, an unseasonal warm-up should happen, the seed would quickly die once the cold returned. Yet I do find seed, seed clinging to whithered stems and hiding beneath wilted flowers frozen by harsh, icy winds. Could this be by design?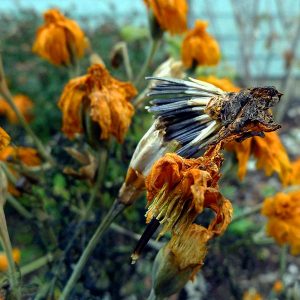 At just the right time, Christ comes. Into our doubts, our fears, our pain and lostness, Christ comes. Like the seed released in the dead of winter, Christ comes. We see it over and over again in life. Christ comes, but the conditions of the individual are not quite right.
It makes no sense to our human eyes, this baby born in unstable times. At just the right time this child was born, but it would still be years before this seed bore fruit.
It often seems as if Jesus encounters those in darkness at strange times. Yet like the seed released in winter, it's just the beginning of the story. Soon the conditions will be right, the seed will break its shell and take root in soil now warmed and bathed in light.
What lessons lie in this winter seed?
How is my life, like that seed released in the dead of winter, a source of light and hope to those desperately trying to beat back the shadows in life?
How might I, like Jesus, be patient in love, rather than attempting to force growth before its time?
But when the fullness of time came, God sent-forth His Son— having come from a woman, having come under the Law in order that He might redeem the ones under the Law, in order that we [all] might receive adoption.  (Gal. 4:4-5 DLNT)
---