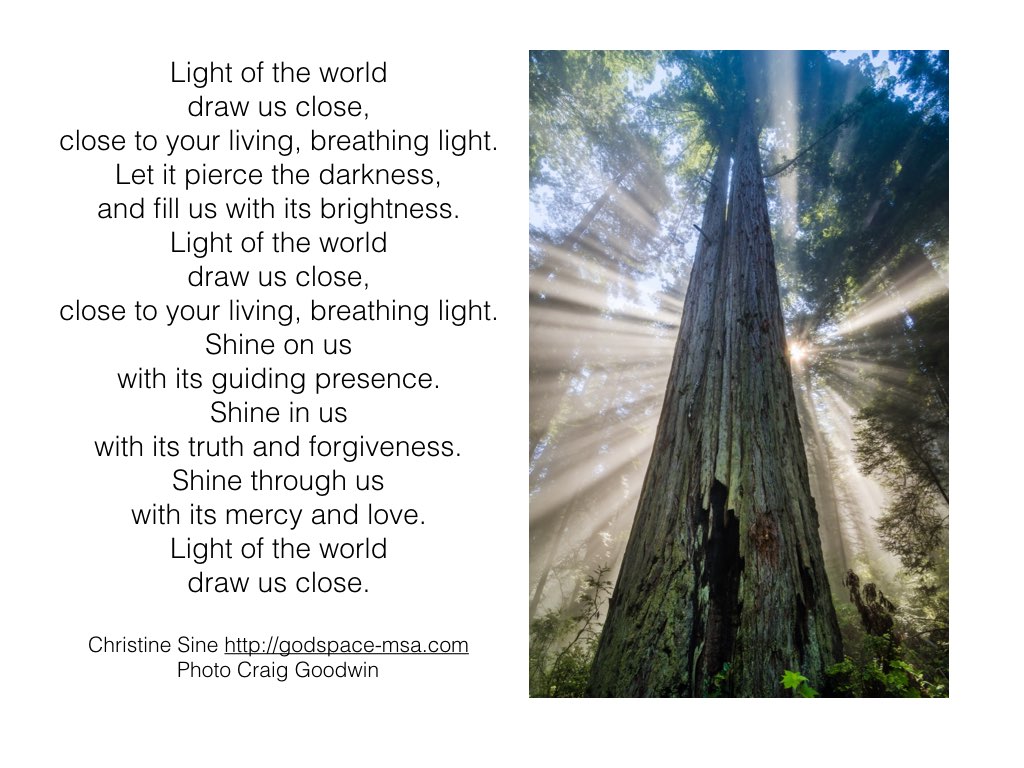 As I read through my Saturday post I was struck by Bailey's comment
They came not to the city of Jerusalem where the Jews thought God's glory would shine, but to the child born in a manager around whom there is already a great light.
We all have our preconceived ideas about where Jesus' light will shine. Some of us think that the glory of God will shine most brightly in our big churches and cathedrals. Others think it should shine through our governments and political systems. But Jesus came to an ordinary family, through an unwed mother, into a small out of the way town.
To me drawing close to God and living into the light of Christ are synonymous.  We cannot be close to God as long as we live primarily in a world  whose values are the very antithesis of God's values – fear instead of love, acquisitiveness and greed instead of generosity, violence & oppression instead of peace.  We all need to take time and make space to draw aside from that world and move more deeply into the light of Christ.
What is Your Response?
Where do you think the light of Jesus shines most brightly in our world today?
In your own life, in the midst of your ordinary everyday life, where are you aware of the light of Christ shining in you and out through you to the world around?
As you look at the desperate situations of war and refugees, sex trafficking and oppression, Ebola and disease, what glimmers of Christ's light are you aware of that are already shining in these situations?
The glimmers of Christ's light are already shining brightly in our world. Yes we do see it in the churches and big organizations working for change in society, government and environmental initiatives. But I think it shines most brightly in the lives and work of those that most of the world will never be aware of.
I see it in my Dutch born friend Sandra Lako, a doctor in Sierra Leone who has worked through the ravages of Ebola in her adopted country, losing friends and colleagues to this dread disease. She could have stayed in the safety of the Netherlands, but chose instead to bring God's light and healing into this horrible situation.
I see it in our friend Naomi Lawrence, who creates magnificent yarn bombing projects that she strategically places in dark corners of her neighbourhood.
I see it in our administrative assistant Katie Metzger who, together with her friend Danielle Neufeld has started an ethically produced, environmentally friendly clothing company Same Threads which employs local artisans in Northeast Thailand.
I see it in the work of  my friends Rich and Cheryl Mackey, founders of Arrow Outreach Ministry which works in Juarez Mexico with The Toribeo Family Center, The Socorro Rivera Elementary School and the newest ministry, Tocando Puertas Family Center.
God still works through the small and seemingly insignificant people and places. There are glimmers of Christ's light already present in a million places in our world.
What Is Your Response?
Watch the video below (no apologies for reposting it) and as you do, think about the friends you know who work in out of the way places with ordinary people who have been hurt, oppressed, or abandoned. In what ways do you see the light of Christ shining through them?
Take time to pray for them, write a thank you note and let them know that the light of Christ shines brightly in their lives. Perhaps God is asking you to support them in other more tangible ways. Spend some time in prayer asking God how you should respond, and then go, provide oil for the lights that Christ has lit. What other responses may God ask of you?