One of my favorite artists is Marcia Carole. She leads ministry workshops with art in many countries. She was in Peru in not long ago, which inspired her newest creation – this 'Peruvian Nativity – God Is With Us.'
I'm interested in her creative process, so below are some other pictures…. and part of her story as she created this lovely painting while in the hospital for chemo for stage 4 breast cancer, and her reflection about the implications of the Incarnation for the world, and for her.
Marcia writes, "I saw donkeys and alpacas when I visited Peru. It was fun to add these animals to the scene." Here's one of the early pictures of the process of painting this image: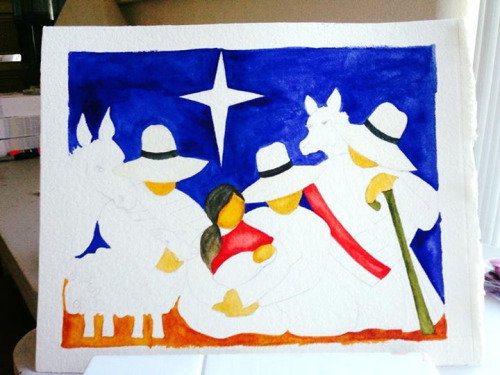 Marcia writes, " I am completing a nativity scene in response to my time in Peru. I love all the vivid colors there. No one is afraid of deep blue, bright orange or a green that pops with life."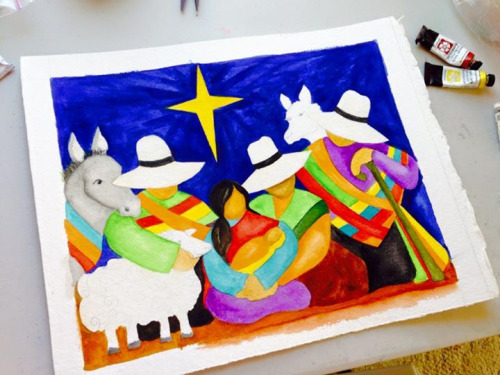 She printed the final image on Christmas cards: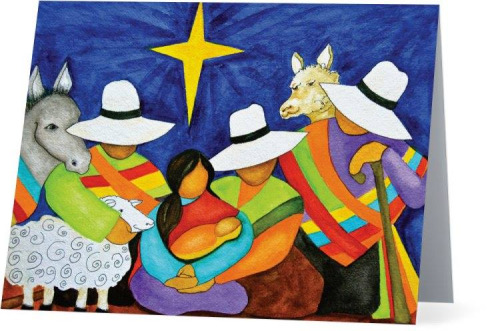 I find all of Marcia's art to be beautiful and engaging; it appeals to my aesthetic sense at a remarkable level. What is even more remarkable is that Marcia is still alive and being creative after struggling deeply with stage 4 breast cancer for quite awhile.
Being very painfully aware of her own mortality drives Marcia to God, drives Marcia to create art for the glory of God (art of many types and subjects), drives Marcia to reflect upon the meaning of the Incarnation for the whole world.
She does that well in a moving essay on her blog about what it's like to create this painting while in the hospital for yet more chemo treatments. Read her entire short essay on her blog Art Engaging Story  
Here's an excerpt …
I get a spurt of energy and think for a moment that, just maybe, I don't have stage 4 breast cancer. Maybe I am fine!
That joyous thought is quickly swept away when I get tangled in my yards of oxygen tubing or my side begins to ache because of the cancerous fluid remaining in my right lung. I'm rudely jerked back to my current reality. I am sick. And, it is a long journey to get somewhat better.
Then, I sigh, and begin again, adding layers of bright, happy colors to my painting. God with us – Christmas. God with skin on – Jesus – came to live among us. He humbly started His journey as a baby. I am always amazed at this truth. I take some pain pills for my lung, and quietly worship as I add more layers of beautiful color. Yes, Beauty came to our broken world, and to mine. Even my world of cancer.
Please pray for my friend Marcia, we would deeply appreciate that.
To see more of her marvelous work and get Christmas cards with this lovely 'Peruvian Nativity' scene, visit her at The Creative Call Art Store 
————————————————————————————–
This article was first published on Global Christian Worship as Peruvian Nativity by Marcia Carole