I love getting ready for the Advent season and am already planning our activities and decorations for the season so thought you might like to do so too.
Resources for Covid Advent and Christmas
Multicultural Resources
Think Outside the Box
In some ways I am a traditionalist when it comes to Advent celebrations. I love to set up our Advent wreath and decorate the Christmas tree. However I also like to get creative during the season and love to encourage others to do the same.
Create an Advent Wreath
The most traditional project to prepare us for the new liturgical year is to create or acquire and advent wreath. An Advent wreath typically consists of greenery with four candles, three purple and one pink. Each candle has a specific meaning:
Candle one (purple) represents hope. It is often called the prophets' candle.

Candle two (purple) represents peace. It is often called the angels' candle.

Candle three (pink) represents joy. It is often called the shepherds' candle.

Candle four (purple) represents love. It is often called the Bethlehem candle.
Many advent wreaths also include a Christ candle in the middle of the wreath.
To celebrate with an Advent wreath, you light a candle on each Sunday of Advent. The first Sunday, you light candle one; the second Sunday, you light candles one and two, etc. You can often find readings to go along with the candle lightings on the internet or at Christian bookstores. Or, find a Christmas book that represents the theme of the week and read it with your children.
There are lots of ways to make Advent wreaths. It is a fun craft to do with kids and adults alike and may establish a new family tradition for you.
Here are a few that I find useful:
Create an Advent or Winter Spiral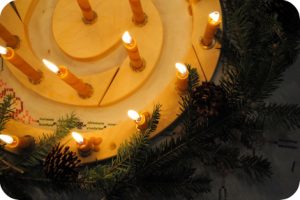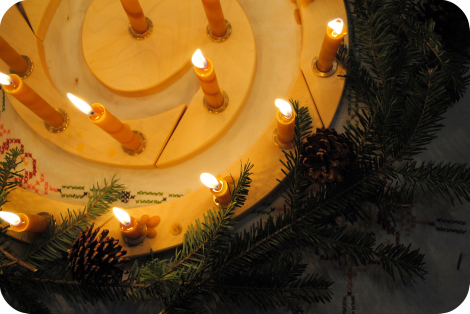 This is not a long standing Advent tradition but is associated with Waldorf schools in the United States. It has similarities to walking the labyrinth and I think is a wonderful tradition to consider establishing for your family.
Create an Advent Garden
This is an idea that I came up with a couple of years ago when I was feeling a little bored by the traditional Advent wreath which we had used for the last 20 years. I am a keen gardener and decided to create my own mini garden specifically for Advent.
I filmed this short video to explain my process and the reasoning behind it. This was a very meaningful and fun way to celebrate the season. It has become an important Advent activity for me. This year, I will replenish the garden again, choose a word to focus on each week and move it to my office desk as a way to pause and meditate during the day. 
I continue to work on this concept and find new inspiration each year. I loved this one from 2015.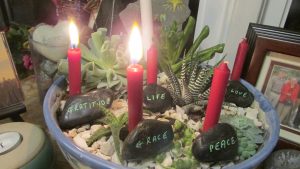 In 2016, we were traveling so I did not make a garden. Then, in 2017, I started experimenting with a little more creativity.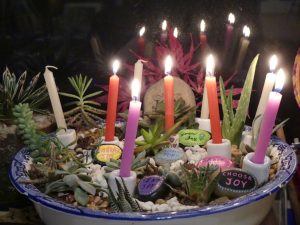 Here are some other advent gardens that I have put together over the years: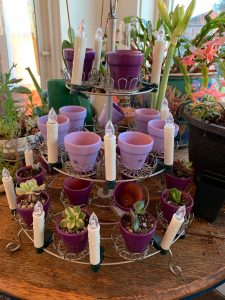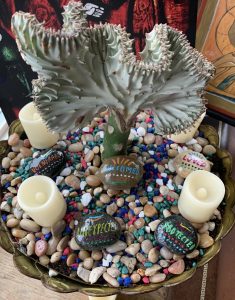 I also came across this very creative Advent calendar/garden idea that I might experiment with too.
Make Your Own Advent Calendar
Advent calendars always seem to represent the more commercial side of Christmas to me with cheap chocolates, wooden toys and glittery paper being the predominant images. However, this is a wonderful tradition and there are many ways in which we can make it meaningful for our families.
Explore Christmas traditions and recipes from around the world with your family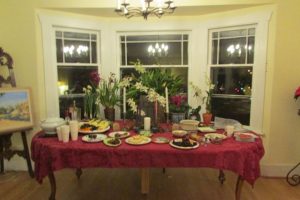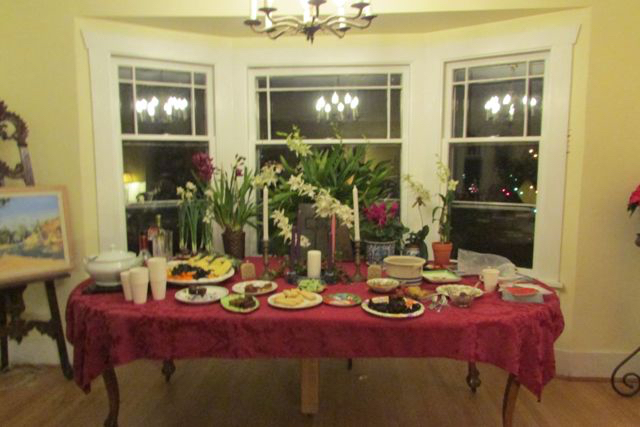 Buzzfeed life has a wonderful array of recipes associated with the Advent and Christmas season in many different parts of the world. Just reading through some of these has my mouth watering. Choose a few to make with your kids and create some special prayers for the countries the traditions come from at the same time.
I love to experiment with new recipes from different parts of the world especially for our Advent Open house.
Set up a nativity set.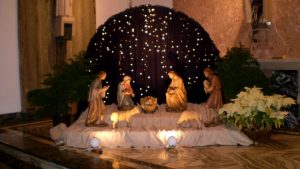 This is always a fun activity that tends to grow even more important as we age. Set it up with the manger empty and the wise men at the other end of the room or house. Throughout the Advent and Christmas season the wise men move closer to the manager and, of course, on Christmas morning, the Christ child appears in the manger.
One of my friends has a rich collection of nativity sets from around the world which she sets up in different parts of the house to remind her that the story of Jesus is powerful in every culture. World Nativity has an amazing set of images of nativity sets from Africa, Asia, Latin America and Eastern Europe. YonderStar is another site that sells Nativity sets, many of them fair trade. They also contribute 10% of their profits to Nature Conservancy and Food for the Poor. Ten Thousand Villages also has Fair Trade nativity sets from around the world.
One creative twist on the traditional nativity set is to give each family member an empty manger on the first Sunday of Advent. A small cereal box covered with bright paper will do as well. At bedtime, the children draw straws for each kind deed performed in honor of baby Jesus as his birthday surprise. The straws are placed in the child's manger or box daily. It is amazing how much love a child can put into Advent when she or he is preparing for his redeemer's coming in grace. 
On Christmas, each child finds an infant in his manger, placed on a small table or a chair beside his or her bed. Usually it is a tiny doll, beautifully dressed. This custom fills the child with a longing in Advent, and provides an image of the redeemer as the first happy glance in the morning and the last impression at night during the entire Christmas season.
Make a Jesse Tree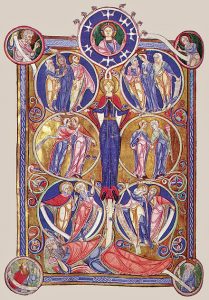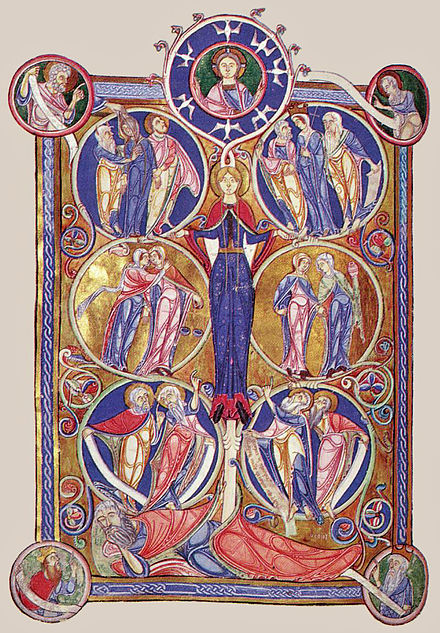 The Jesse Tree represents the family tree, or genealogy of Jesus Christ. It tells the story of God's salvation plan, beginning with creation and continuing through the Old Testament, to the coming of the Messiah. The name comes from Isaiah 11:1, "Then a shoot will spring from the stem of Jesse, and a branch from his roots will bear fruit." (NASB)
Each day of Advent, a homemade ornament is added to the Jesse Tree, a small tree made of evergreen branches. These symbolic ornaments can each represent a prophecy foretelling of Christ. Other variations include creating ornaments that represent the ancestors in the lineage of Christ, or using the various monogram symbols of Christianity as handmade ornaments. Before a symbol is hung on the branch, a Bible passage or a story from a story Bible is read.
This is part of a series on Christmas/Advent resources. 
Resources from Godspace for Advent and Christmas
Godspace has a variety of resources available for celebrating this season.
Check out the entire resource list here for more ideas for Advent and Christmas.
Godspace has a number of Advent resources available for both free download and purchase. Visit our store.