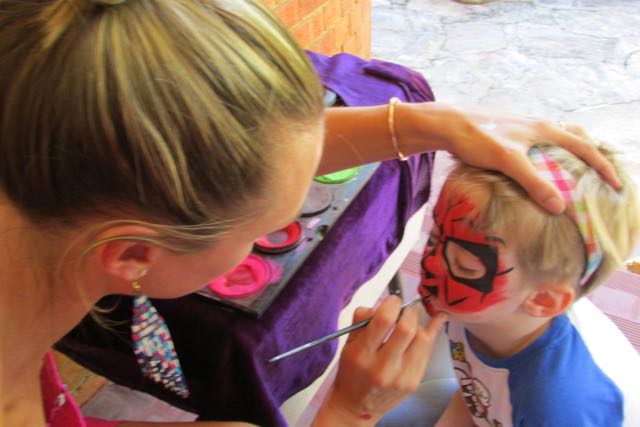 It is Halloween in a few days and parents are gearing up to send their kids out in all kinds of fancy costumes. As I mentioned in my last year's post Halloween Is Coming – Resources to Help You Decide What to Do, some Christians see this celebration as evil and like to stay home with lights off. Others feel we should participate in ways that engage and redeem the culture.
Whatever your approach to Halloween, I think there are some things that all of us should be aware of.
Toxicity of Face Paint.
As this helpful article says: a lack of regulation in the cosmetic industry and misleading marketing labels mean that parents may unknowingly spread harmful ingredients on their child's skin. They list the few safe paints: Elegant Minerals , Glob face paints, and a recipe for DIY paint. I also found this really inexpensive and simple alternative to purchased face paints which the website says is safe enough to eat, and though we may not want to experiment some of our kids probably will.
Safety Tips for Halloween
The CDC has an excellent list of safety tips to think about as you both dress and send your kids out.
And another great list from the American Academy of Pediatrics.
And probably one of the most important: A big part of Halloween safety is making sure drivers can see your kids as they're crossing the street or walking from house to house. Give your trick-or-treaters their own flashlights and/or light-up or glow-in-the-dark accessories.
The Candy Problem
A poll taken in 2017 showed that 41 million kids in the U.S. go trick or treating. Last year, Americans spent something like 2.6 billion on Halloween candy. No wonder one out of three children in America are overweight and many will develop diabetes. Consider making your own healthy treats, giving out non-food items like polished stones, temporary tattoos, or friendship bracelets.
Reverse Trick or Treating
Most chocolate sold in the US is tainted by child slavery and exploitative conditions for adult workers. Fair trade eliminates child labour and ensures healthy working conditions with a living wage for workers. Thousands of groups of Trick-or-Treaters in the United States and Canada unite at Halloween each year to help:
END poverty among cocoa farmers
END forced/abusive child labor in the cocoa industry
PROTECT the environment
PROMOTE Fair Trade
How? By distributing Fair Trade chocolate to adults, attached to a card explaining these problems in the cocoa industry and how Fair Trade presents a solution. You can learn more about this initiative here.
What Do You Do With All Those Pumpkins?
You don't have to let your pumpkins rot on the front porch or throw them out. They really are some of my favourite vegetables. Here are some great recipes:
Pumpkin Soup Carribbean Style with Black Beans
Pumpkin Bread: This is a great recipe – and as it says, it is adaptable.
Pumpkin Chocolate Chip Muffins: I chose this recipe because it's fairly healthy, uses whole wheat flour and recommends making mini rather than full sized muffins – cuts down on the portion size. There are lots of other great pumpkin recipes on this site.
Gluten Free, Grain Free Chocolate Chip Muffins: I have not tried this recipe but it looks interesting – uses almond butter and honey instead of sugar.
Gluten Free Pumpkin Oatmeal Anytime Squares: Again I have not tried these but they look very interesting.