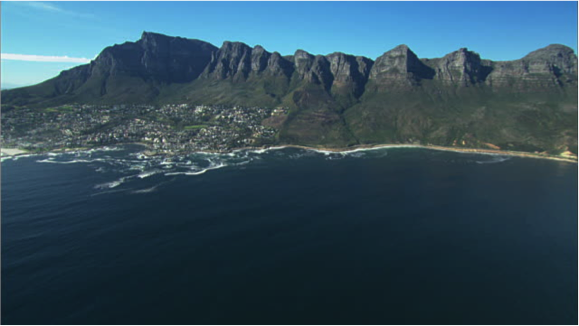 About 9 years ago, my husband Karl and I got lost up the mountains in the middle of a Cape Town winter in South Africa. We had a guide book with us, but lost the path and ended up bundu-bashing up a steep creek in order to reconnect with the path on top of the mountain above Suikerbossie in Hout Bay. The sun was preparing to dip below the horizon when we came to the verge of a sheer escarpment and then a drop, into apparent nothingness. We bumped into two Californian students who had also lost the path at the same point in time and phoned rescue services twice, were promised a helicopter, but in fact both calls were not even logged which left us stranded!
With a failing cell phone battery, after those calls, we had no way of communicating with the outside world. Thankfully it had been an unusually warm winter's day, but June up the mountain in the middle of the night in Cape Town is no joke! We knew we couldn't risk the downward backtrack in the dark even though we had a headlight, being far too risky to possibly slip and fall into unknown dangers. So we walked instead to keep warm, across the tops of the 12 Apostles, a long range of mountains, throughout the night, stopping for naps and continuing our journey when it became too cold… all the way to the side of Table Mountain when dawn light pinked the mountains as we walked up the final countless steps, with Karl pulling me up step by step to the top. We ended up on page 3 of the city newspaper, The Argus. And then I found myself heading for a burn out at work, from the post traumatic stress of it all!
However, on the other side of that mountain ordeal, our pilgrimage together throughout that long lonely night, taught me some very important things. It showed me what uniting together can do, "For where two or three gather in my name, there am I with them." (Matthew 18:20). Even when I thought God let us down and left us alone, I was in fact learning deep lessons of strength and endurance. I learnt that there were reserves in me I never knew existed. And that when I come to really challenging circumstances in life, there is something that night up the mountain that taught me, that with the help of God and with the help of others I can accomplish much more than I ever think I am able.
We all have within us reserves of hidden resilience. When we are pushed beyond our feeling of ability, God rises up in our weakness. There are buried treasures inside of us that we discover, only under certain conditions. Sometimes life narrows into a seemingly impossible to navigate corner before we discover a solution rising up from within that we would never have accessed in the easy to navigate terrain of everyday life.
When we are pushed into a corner like this and all of life feels like a brick wall, it is then we find, Jesus weeping with us in our pain and disappointment. And then we come to see life in a completely different way when he calls forth resurrection into our situation, as what is dead suddenly comes out of a tomb into the light. We are instructed to take off the grave clothes and walk out of that tight corner into a whole new way of being and doing.
Heading toward my 40th birthday, at times I've felt as though I'm approaching a hidden corner. The mountain pilgrimage serves again to remind me that my weakness becomes a catalyst for God to release surprising reserves to resurrect within me. United in the Trinity and within the support of my loving family and friends I will find a path to cross over into the new day. It is not necessarily the path I expected by this time in my life. It is rather something much better, the path God has chosen for me. When I recognise that, thankfulness flows and gratitude shapes my perspective in such a way that I can no longer desire the "should have" "could haves" any longer. I can live in and embrace the "what ares", the "what is" and find peace in the centre of my being.
With God comes a new way as my depleted reserves become an unlocking of doors, a new pilgrimage to navigate with the Journey Master of my Life, Jesus Christ. His love perseveres into eternity with me and for me. He shows me what is of true value, of true importance. "Step forward in my love each day and embrace my will for your life." This is what He shares with me. This is what is needed.
And who knows what is waiting for me on the other side of 40? But with my God I am on the threshold of life peeking into something altogether new and realising that what felt old and stale is actually the dying of old seed husks so that new shoots can poke out of the soil and start becoming what they were always meant to be. And I am determined to allow the growth of this pilgrimage to do its work so that those plants will grow without undue hindrance, into a harvest.
I am learning to let the path go where it wills, and let it be what it needs to be.
To let it be what it is.
As you listen to this song "Shepherd" by Amanda Cook, you will find the prayers of a pilgrim rising up to the Father: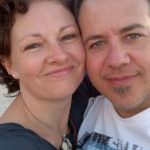 Jenneth Graser lives in Cape Town, South Africa where she has lived for most of her life but has also lived in North Vancouver when her family immigrated there in the early 80's, and in Toronto, Canada. She is married to Karl and they have three daughters who are being homeschooled. Karl and Jenneth facilitate a contemplative group called Free Flow, and are on the eldership of the Bay Community Church in Muizenberg. She has written "Catching the Light: a Devotional". Jenneth's contemplative songs, audio devotional podcast and blog poetry may be found at: www.secretplacedevotion.weebly.com