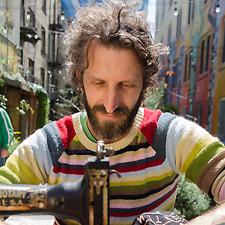 When you get a hole in your sock, do you mend it or throw it away?
In the Tenderloin district in San Francisco (CA), college art teacher Michael Swaine sews socks, pants, coats, and more – for the community, including for those experiencing homelessness.
Years ago Michael found a beautiful antique treadle sewing machine tossed to the curb.  On the 15th of each month, he wheels the machine to the sidewalk to provide free repairs.
He was recently featured in a 2-minute CBS News video, and explains that "what started as a tool for mending is a tool for people to stop and talk."  The reporter notes, "It has become less about letting out pants and more about taking in stories and building community."
Michael shares that many people he talks with have had a tough life and are grateful for someone who will listen to their story and also share his own story. One woman says, "He is healing people with his gift."
This reminds me of a graduate of Bridge of Hope South Jersey who said this about her Bridge of Hope mentoring friends from a local church: "It's hard to walk away from all you know and move forward like it didn't happen when in fact, everyday, you struggle with what happened. I enjoyed knowing there was always a safe place to turn and someone willing to listen without making decisions or passing judgments."
This summer, the Association of Gospel Rescue Missions invited us to write the first two articles for their May/June Rescue magazine.  I am grateful that they wanted to share stories of (and demographics about) single mothers and children facing homelessness.
Each day we talk with agencies, churches, and communities about how Bridge of Hope tools and resources can help them to end family homelessness in their community.  We'd love to talk with you.  Blessings as you mend the fabric of your neighborhood.
————————————————————–
Today's post is contributed by Edith Yoder, Executive Director of Bridge of Hope, an organization that develops three-way partnerships between homeless single mothers, trained church-based mentoring groups, and trained case managers.  The model has shown an 80% success rate.  Women graduate from the Bridge of Hope program having attained permanent rental housing, financial stability through employment, and a support network of friends from a church in their community.
.