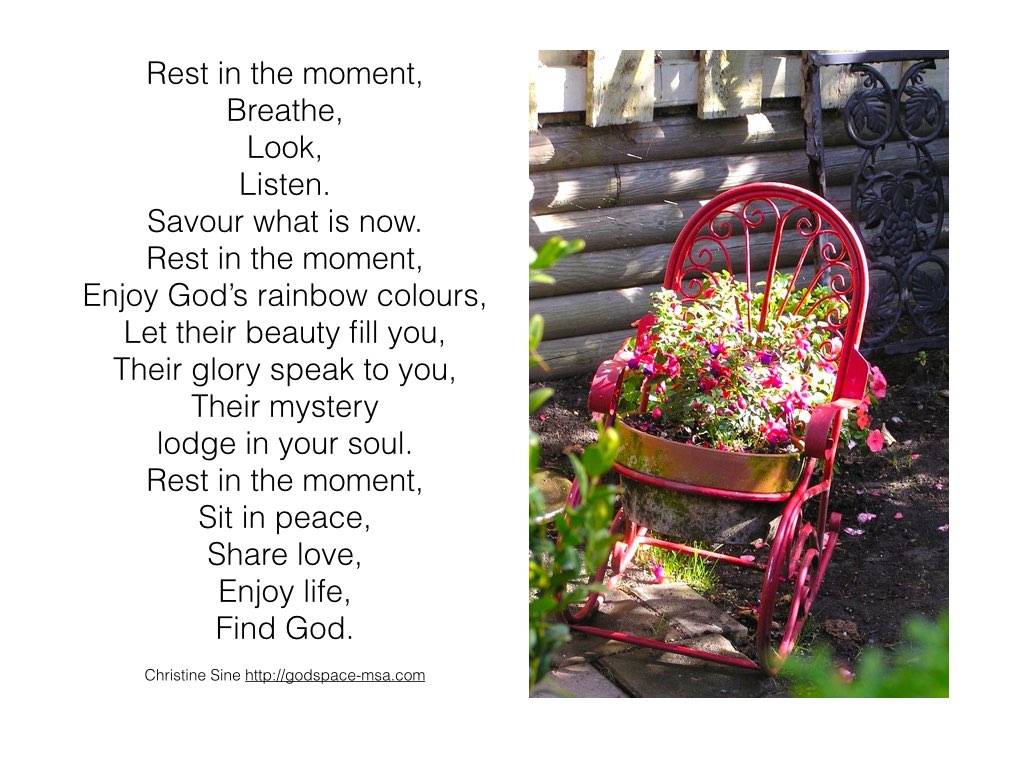 Tom and I are about to go away for a few days of much needed rest. We are heading to Mayne Island in Canada and in preparation I have been gathering prayers, and preparing reflective exercises that will help me focus as I seek to refresh and renew myself. Rest is meant to be an important part of the rhythm of our lives. We all need times when we pause for refreshment and renewal. Just as the night calls us to rest after a busy day and the winter calls us to rest after busy seasons of planting growth and harvest, so to does God beckon us to rest after seasons of busy work.
What is Your Response?
Read through the prayer above and sit quietly in the presence of God. Take a few deep breaths in and out. Allow the wonder of God's presence to fill you. Enter into the invitation of the prayer to look, listen and savour the moment. Rest in God.
At times like this I am always drawn towards Psalm 23, that wonderful prayer of David's that calls us to rest in the presence of all life's fears and challenges. Reading it this morning in The Voice, I have been struck again by its message. I invite you to read it together with me.
The Eternal is my shepherd, He cares for me always.
He provides me rest in rich, green fields
    beside streams of refreshing water.
    He soothes my fears;
He makes me whole again,
    steering me off worn, hard paths
    to roads where truth and righteousness echo His name.  

Even in the unending shadows of death's darkness,
    I am not overcome by fear.
Because You are with me in those dark moments,
    near with Your protection and guidance,
    I am comforted.

You spread out a table before me,
    provisions in the midst of attack from my enemies;
You care for all my needs, anointing my head with soothing, fragrant oil,
    filling my cup again and again with Your grace.
Certainly Your faithful protection and loving provision will pursue me
    where I go, always, everywhere.
I will always be with the Eternal,
    in Your house forever.
What is Your Response? 
As you read slowly through this psalm, listen carefully to the words. Read them aloud and invite them to lodge in your spirit. Is there a  word or phrase that catches your attention? Recite it several times. Sit quietly in the presence of God and allow God's spirit to speak to you. Respond to the Spirit's nudging y writing down what you sense. Say a prayer of gratitude for God's guidance.
Now watch this video – is there anything more that God is saying to you or nudging you to do?