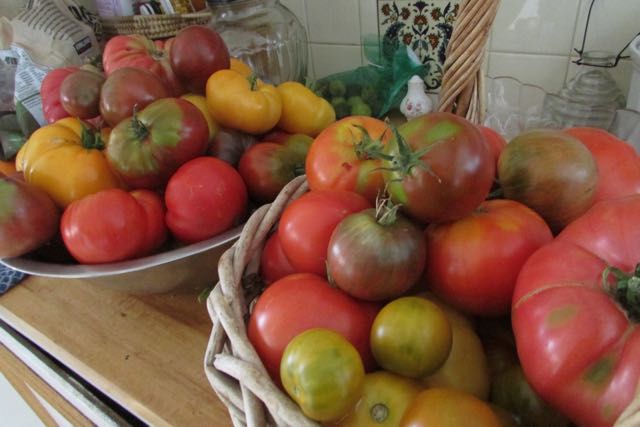 A couple of days ago I posted about our abundance of tomatoes. I mentioned that such abundance makes me creative and it obviously makes others creative too.  I have had several requests for recipes, have received some wonderful new recipes from others, and am still looking for more. Not only are our tomatoes overflowing, but the apples too are ripening and overwhelming in their abundance. We are getting ready to preserve and share.
So I thought I would share a few of my favourite recipes and ask you to add to the list. What would you do with an abundance of tomatoes, or apples, or whatever is ripening in your garden or overflowing from the supermarket shelves, or being discarded by your local farms.
We don't want any of this wonderful produce to go to waste. Huffington post tells us that 6 billion pounds of produce is discarded every year because it is ugly. Wasted food says that Americans waste 40% of food that is produced.  What other suggestions do you have for how we could use it?
Here are recipes that have helped us – what would you add to the list? What else should we do with the abundance?
We are also living on tomato sandwiches:
Bacon, Lettuce and Tomato Sandwiches a la Tom Sine
Take 2 slices of good, crusty Italian bread and spread it with mayonnaise, mustard, or butter. Fry pieces of lean bacon and drain off the fat on paper. Place the bacon on one slice of bread and top it with tasty cheese. Place under the broiler until the cheese is melted. Top with slices of sweet onion, avocado, lettuce, and large slices of Brandywine tomatoes. Pepper and salt to taste and place the remaining slice of bread on top. Enjoy!
Portabello Mushroom, Squash and Tomato Sandwiches a la Christine Sine
Take 2 slices of a good crusty bread and toast lightly under the griller on one side. Sprinkle 2 portabello mushrooms with soy sauce and grill until soft. Cut summer squash into slices about 1/4 " thick lengthwise. Coat both sides with olive oil, sprinkle with Italian herb seasoning and grill until soft. Cut a large red bell pepper in half lengthwise and grill until skin is black. Leave in a paper bag for 1/2 hour and then peel skin. Layer mushrooms, squash and pepper slices on untoasted side of bread, cover with slices of cheddar cheese ( we love Irish Dubliner) and grill until cheese is melted. Top with slices of sweet onion, avocado and large slices heirloom tomatoes. Pepper and salt to taste and place  remaining slice of bread on top. Enjoy!
My favourite tomato salad (Quinoa tabbouleh)
2 cups quinoa – I like a combination of red & white
2 lb tomatoes – if you use cherries halve them, larger tomatoes cut in small pieces
1 lb summer squash – my favourite is patty pan but any small squash works, cut into 1/2″ pieces
1 medium sized cucumber cut into 1/2″ pieces
1 cup green beans – cooked & cup into 1/2″ pieces.
1/2 cup sweet onion
1 lb feta cheese – crumbled
1/2 cup olive oil & 1/2 cup lemon juice for dressing.
1/2 cup kalamata olives
1 cup parsley – finely chopped
1 cup mint – finely chopped
Cook the quinoa in 3 cups of water for 10 minutes and allow to cool. Add tomatoes, squash, cucumber, beans, onion, feta cheese, olives, parsley and mint. Stir in the dressing and enjoy. (serves 6-8)
One thing I like about this salad is that it is just as good the second day.
You may also like to look at other tomato and apple recipes I have posted: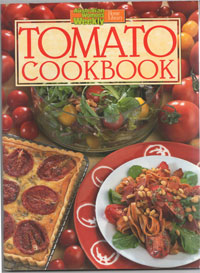 And I heartily recommend the Australian Women's Weekly Tomato cookbook which has given me much inspiration in the past.
So get out and savour those tomatoes – or if you live in the Southern hemisphere think about what you could do when the produce overflows next year. Enjoy!