The potential for violence lies within all our broken hearts and lives. There are hidden places within all of us, where we need to be reconciled to God's desire for peace and wholeness. There are broken relationships that need to be repaired, destructive tendencies that should be repented of.
How do we respond in the face of this violence within ourselves and within our world? Loving when others despitefully use us, seeking for peace when our natural response is either to run away and pretend it is not happening or to join in. We fight violence with violence.
What is the correct Christian response?
We look to the Celtic saints, specifically to Columba of Iona for guidance. He was a man for our times – a negotiator, a reconciler and a peacemaker who faced many similar problems to the conflicts in our world today. Columba bridged a gap between the fledgling Christian culture and the pagan, druidic culture of his time. As a young man he too fought violence with violence, and must have struggled with his own need for repentance and inner restoration. The wisdom of life and his sacred calling as a monk taught him the power of peace and reconciliation.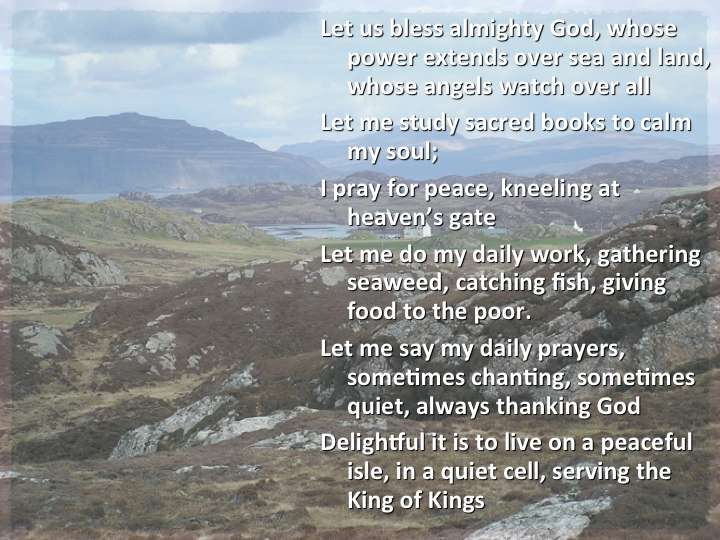 Columba teaches us that the response to violence begins not with action but with listening. So let us join Columba in the reciting of this prayer which he wrote and open ourselves to receive from God as we listen through the scriptures.
Come into God's presence and listen for God's wisdom in the silence of your heart as we read through the scriptures and apply the practice of Lectio Divina to them. Ask God where you need to be reconciled. Are there inner places of reconciliation in the depths of your heart that God brings to mind? Are there promptings towards reconciliation with God, others or God's world?
Listen, not just to the response of your own spirit and its need for restoration, but also for the pain that has created this violent response within the perpetrators. Are there ways in which our actions or inactions have contributed to the violence? Above all let us listen to the voice of God's reconciling spirit calling us to forgiveness and healing.
Introduction to Lectio Divina
This is a very ancient contemplative prayer technique practiced at one time by all Christians and kept alive by the monastic tradition. It draws us into the presence of God and enables us to discover an underlying spiritual rhythm in our daily life.
Lectio divina begins with cultivating the ability to listen deeply, to hear the still, small voice of God. Get comfortable and clear your mind of mundane thoughts and cares. Become silent. You may find it helpful to concentrate by beginning with deep, cleansing breaths or reciting a short prayer over and over to help free your mind. 
Lectio – reading/listening or settling and shimmering: Lectio is reverential listening; listening both in a spirit of silence and of awe. Settle into your prayer space, let go of distractions and open yourself to the experience of prayer. Read through the text slowly several times, attentively, gently listening to hear a word or phrase that beckons and shimmers as God's word for you today.
Meditatio – meditation or savouring and stirring: Read the text again and take time to savour the word or phrase that shimmers by allowing it to unfold in your imagination.  Be aware of the memories and images it evokes. Allow it to interact with your inner world of concerns, memories, and ideas. Dialogue with God. Through meditatio we allow God's word to touch us and affect us at our deepest levels.
Oratio – prayer or summoning and serving: Respond to the passage by opening you heart to God. Listen for how the things that have been stirring within you connect to some aspect of everyday life. Prayer arises spontaneously as we allow our hearts to be touched by this entering of God into our experience. Enjoy a conversation with the One who has invited you into a loving embrace. Offer to give God your thoughts and reflections and invite God to use the scripture to change you.   
Contemplatio – contemplation or slowing and stilling: Slow yourself down and rest into the still presence of God. Free yourself from your own thoughts. Open your mind, heart and soul so that you can hear God speak to you. Sit in silence, letting go of our own words enjoying the experience of being in the presence of God. Offer gratitude for God's presence and enjoy what God is doing and saying to you. You may like to write down what you feel God is saying to you.
(Ring the singing bowl)
Scripture Readings
2Corinthians 5:16-21 (NLT)
So we have stopped evaluating others from a human point of view. At one time we thought of Christ merely from a human point of view. How differently we know him now! This means that anyone who belongs to Christ has become a new person. The old life is gone; a new life has begun!
And all of this is a gift from God, who brought us back to himself through Christ. And God has given us this task of reconciling people to him. For God was in Christ, reconciling the world to himself, no longer counting people's sins against them. And he gave us this wonderful message of reconciliation. So we are Christ's ambassadors; God is making his appeal through us. We speak for Christ when we plead, "Come back to God!" For God made Christ, who never sinned, to be the offering for our sin,[a] so that we could be made right with God through Christ.
Colossians 1:15-20 (The Voice)
He is the exact image of the invisible God, the firstborn of creation, the eternal. It was by Him that everything was created: the heavens, the earth, all things within and upon them, all things seen and unseen, thrones and dominions, spiritual powers and authorities. Every detail was crafted through His design, by His own hands, and for His purposes. He has always been! It is His hand that holds everything together. He is the head of this body, the church. He is the beginning, the first of those to be reborn from the dead, so that in every aspect, at every view, in everything—He is first. God was pleased that all His fullness should forever dwell in the Son 20 who, as predetermined by God, bled peace into the world by His death on the cross as God's means of reconciling to Himself the whole creation—all things in heaven and all things on earth.
Regathering Song
The monastery of Iona, like those previously founded by Columba in Ireland, was not a retreat for solitaries whose chief object was to work out their own salvation; it was a great school of Christian eduction, and was specially designed to prepare and send forth a body of Christ followers trained to the task of preaching the Gospel among the Scottish tribes. It became a centre for art, music, and education that helped preserve Christian culture during the dark ages.
Columba's reconciling influence was very great with the neigbouring tribal kingdoms, and the leaders often applied to him for advice, and submitted to him their differences, which he frequently settled by his authority. He established monastic learning centers throughout Scotland that continued his influence for many years.
Our prayer is that this property too may become known as a place of learning, training and reconciliation. May God give us the wisdom to build and the discernment to form the type of community that can have the same influence that Columba did.
Song
High King of Heaven,
Almighty Father of us all,
as your servant Saint Columba
established a community built on love and trust,
so grant that in all humility
we may be your hands and your voices here on earth,
working to build up the community of faith,
a place of learning and reconciliation.
In the name of your Son,
our Saviour Jesus Christ.
Amen.
Grace for Potluck Lunch.
May the blessing of the five loaves and the two fishes,
Which God shared out among the five thousand, be ours.
May the King who did the sharing ,
bless our sharing and our co-sharing.
The blessings of God be upon this place,
With plenty of food and plenty of drink,
With plenty of beds and plenty of ale,
with much riches and much cheer,
With many kin and length of life ever upon it.
Amen.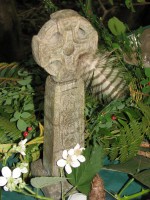 ——————————————————————————-
This is second of two posts of the litany for MSA's 24th Annual Celtic retreat
Enjoy!