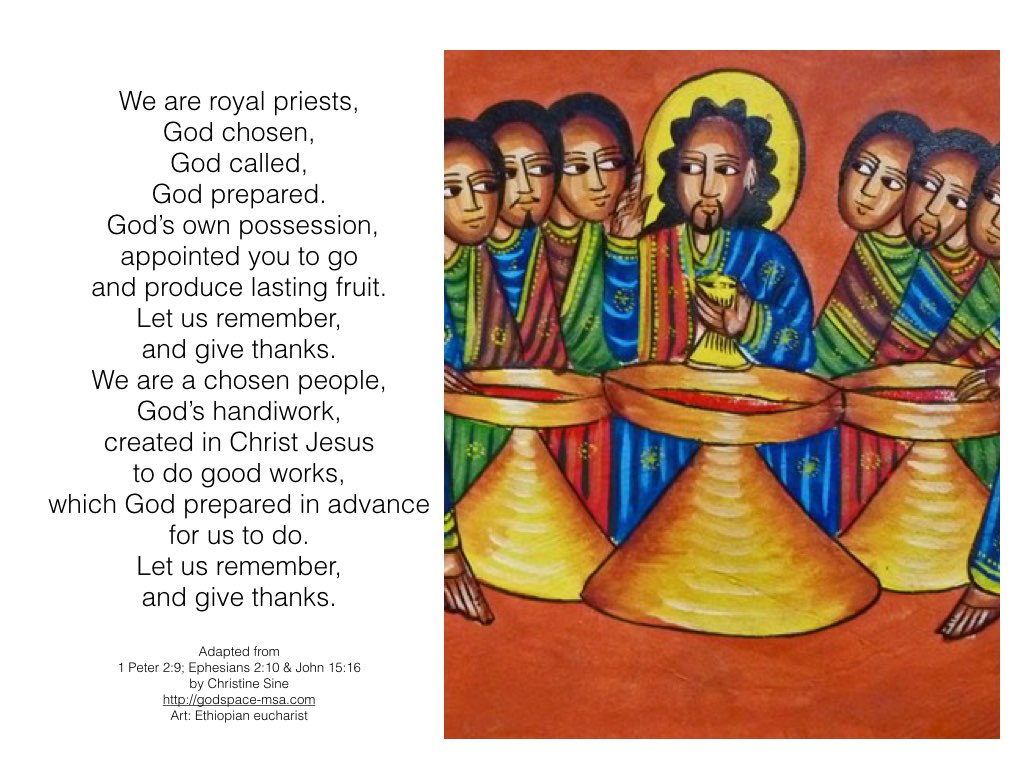 you are a chosen people. You are royal priests, a holy nation, God's very own possession. As a result, you can show others the goodness of God, for he called you out of the darkness into his wonderful light. 1 Peter 2:9 NLT
Chosen people – it makes us all feel so special. But why did God choose us? As I gathered my stones last week I thought about that. God chooses slaves and prostitutes and misfits to be his followers. I did not choose stones because they were unique or special either. The seven I ended up with were no different than the ones I left behind. I chose them for their diversity of colour, their size, their texture and their aesthetic beauty.  They looked good together. They fitted comfortably in the palm of my hand and they were all nice and smooth. Not special in that they were unique, but special because I chose to make them special.
We are special because God chooses to make us special too. God chooses us because God wants someone of a particular shape and size, with particular talents and the ability to fit together with the other people chosen at the same time. And tomorrow God will come and choose someone else, someone just as special and unique as we are. God will keep choosing special people until all the people in the world are chosen. We will be chosen to fit together comfortably in God's hand, for specific tasks and special purposes. We will be chosen for our diversity, our size, our shape, and because we fit well together. We will be chosen because we fit a unique niche in God's family.
What is your response:
Why do you think God chose you? Look at yourself in the mirror. What is it about your appearance, your gifts, your abilities that encouraged God to choose you? Now think about the people God has placed you with. Why do you think God chose them to be together with you? What is the unique niche that you fill both as individuals and as a community?
You didn't choose me. I chose you. I appointed you to go and produce lasting fruit, (John 15:16)

For we are God's handiwork, created in Christ Jesus to do good works, which God prepared in advance for us to do. (Ephesians 2:10 NIV)
We are chosen for a purpose, to do good works and  to produce fruit, and like any fruit producing tree, the fruit is meant to be shared for the nourishment of others. The Israelites were chosen to be a blessing to all nations. Disciples of Christ are chosen to show compassion and generosity and love.
What is your response: 
Sit quietly before God with your eyes closed. Listen to the music below. Think about your life. What do you think are the good works God chose you to perform?
————————————————————————————-
This is the first of several reflections that have come out of meditating on the stones I collected last week.